The ANC's battle for South Africa's presidency heats up
Stacy M. Brown (NNPA Newswire Contributor) | 12/11/2017, 3:41 p.m.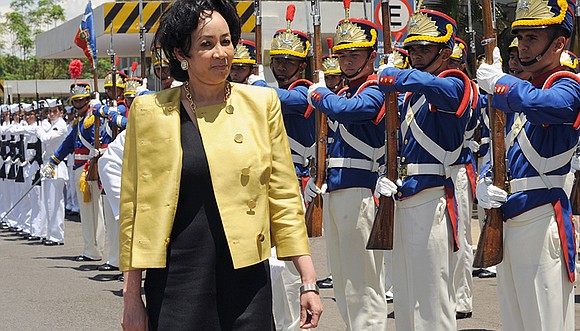 "Comrade Lindiwe Sisulu believes now is the time to elect a female president. She is of the view that the more female candidates there are' the better," Sisulu spokesman Makhosini Nkosi said. "As far as we are concerned' we are trying to get Lindiwe Sisulu elected president. That is the mandate of the branches that nominated her."
Nkosi added that the campaign was focused solely on getting Sisulu elected ANC president in December.
A recent analysis revealed that residents of South Africa remain concerned with the practice of funneling state expenditure to suit the business agenda of the elite.
However, Dlamini-Zuma said in a recent radio interview that it wouldn't matter if she focused on state capture and that there was nothing she could do about it beyond recommendations already made.
"The issue of state capture, you know I'm not in government, I can't do much about it myself," Dlamini-Zuma was quoted as saying in the interview published by The Citizen in South Africa.
Earlier, she said, "once state capture was dealt with, the country could then focus on the most important things, such as poverty and unemployment."
Roger Southall, a politics and sociology professor at Wits University in South Africa, said he thinks the battle for the succession within the ANC will ultimately be a fight between Dlamini-Zuma and Cyril Ramaphosa, the ex-unionist turned businessman and millionaire who has been accused of fomenting the Marikana massacre, a 2012 incident that occurred during a strike at the Marikana mine in South Africa.
The strike ended when police opened fire, killing 34 miners.
"The odds now seem against Dlamini-Zuma while Ramaphosa seems to be picking up not just his own genuine support, but people bailing out of the Zuma faction," Southall said. "Whatever the result, it's war within the ANC and there could be a split. The opposition could pull off the need for a coalition government, as the ANC is so obviously at war with itself.
Southall continued: "Many hope this will happen as the ANC is not merely now corrupt, but devoid of ideas."
PHOTO CAPTION: Lindiwe Sisulu, the nation's minister of Defense and Military Veterans, is among the candidates for the ANC's next president. In this photo, Lindiwe Sisulu, participates in a ceremony, during a visit to Brazil. (Wikimedia Commons)