New enrichment program for Black girls transforms lives
Candace J. Semien (The Drum/NNPA Member) | 12/11/2017, 11:46 a.m.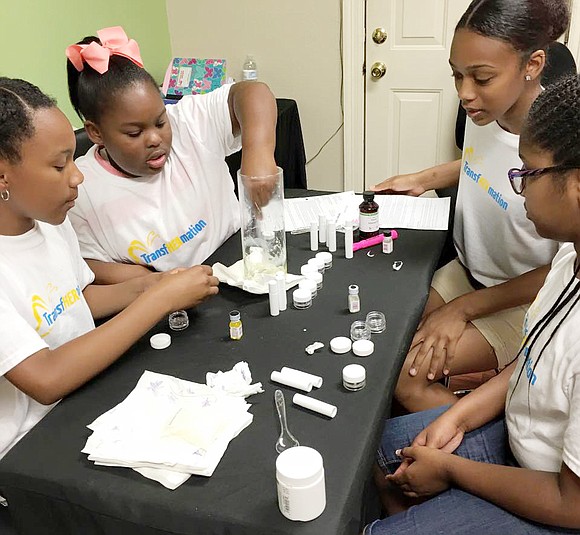 At a time when many messages for young girls seem to be conflicting, Baton Rouge teens are experiencing an influx of organizations and programs designed to show them how amazing and powerful they are in the world. From Black Girls Rock on a national scale to the local Womanhood101 initiative and the "TransfHERmation" program, the brilliance of teen girls are being magnified and strengthened.
"I believe girls are a special gift from God and they should be nurtured as such," said Quintina Ricks, founder of TransfHERmation, an enrichment program for girls.
For two years, more than 20 girls have experienced "TransfHERmation" at T. Simmons and Company in Baton Rouge where they developed businesses, vision and mission statements, brand names, and taglines to reflect their value system. These values were explored during sessions on gratitude, respect, public behavior, and relationships.
The girls created products for their business—most opting for cosmetics—using raw materials and scientific principles to manufacture lipsticks, lip gloss, soap, and candles. During an interactive, real-world stimulation, they took on adult responsibilities and purchased homes, cars, insurance, and childcare services.
As part of their transformation experience, the girls learned strategies to improve and maintain healthy diets, relationships, hygiene, and finances. "Critical to their success and quality of life will be their ability to make healthy lifestyle choices relative to managing stress and friendships," said Ricks. "We teach young ladies to prioritize their greatest asset which is their health."
TransfHERmation is Ricks' brainchild, which she started in 2014 as an exhilarating, multi-faceted summer program that she designed to help girls improve their self-awareness, self-love, and self-worth. Ricks is owner of Ten40 Solutions. She said she is an accountant by trade, event designer by passion, and youth developer by purpose. It is within the structure of her TransfHERmation program that Ricks is able to be most creative in reaching the girls.
"When we invest in young people, the return on that investment is immeasurable. We build the female leaders of the future," she said. The Drum talked with Ricks to learn more.
THE DRUM: How was this experience designed to be transformative?
Quintina Ricks: Our goal is to build the female leaders of the future. There's no denying that women are making huge contributions all across the globe in all walks of life. It's also no secret that women face unique challenges relative to crushing stereotypes and breaking through the proverbial glass ceiling. Our desire for these girls is that they embrace their femininity, understand their power, harness their creativity, identify their strengths, and visualize their future.
TD: Why was this age group targeted?
QR: This year's camp experience was developed specifically for teenage girls. Adolescence is an important time. These young ladies are making critical life decisions that will either serve a setbacks or set ups for long term success. We want to equip these young ladies with the information, tools, resources, and mentors to make solid life decisions.
TD: What life lessons did you want this experience to teach or be reveled to participants?