'The Lion King'—two glorious decades on Broadway and counting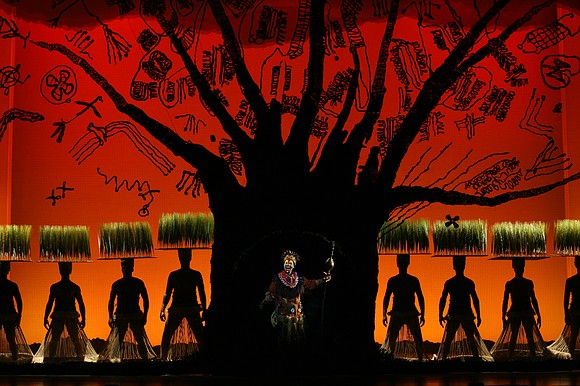 Make "The Lion King" part of your circle of life! It lifts the soul! It beautifully brings to life our connection with the ancestors and makes you realize you are never alone. It's no wonder this musical is celebrating its 20th year on Broadway: it is truly a one-of-a-kind experience.
For 20 years, "The Lion King" has been a source of great diversity for the Broadway community, employing more than 50 South African and African-American cast members at a time. Whenever we want to see ourselves on Broadway, all one needs to do is buy a ticket to "The Lion King." It is fostering a legacy of diversity.
This production has been touching Broadway audiences since Nov. 13, 1997, and has spawned 24 global productions that have been seen worldwide by 90 million people. This history-making musical is the only one to generate six productions worldwide that have run 15 years or more and is performed in eight different languages: Japanese, German, Korean, French, Dutch, Spanish, Mandarin and Portuguese. "The Lion King" can currently be seen on Broadway and London's West End, in Hamburg, in Tokyo and Sapporo, in Madrid, in Mexico City, in Scheveningen, Holland, and on tour across North America, for a total of nine productions running concurrently across the globe. It has played in more than 100 cities in 19 countries on every continent except Antarctica.
From the time that "The Lion King" took to the stage it was recognized for its greatness. In 1998 it won six Tony Awards for Best Musical, Best Scenic Design by Richard Hudson, Best Costume Design by Julie Taymor, best lighting design by Donald Holder, Best Choreography by Garth Fagan and Best Direction of a Musical by Taymor, the first woman to receive this distinction. "The Lion King" has also earned more than 70 major arts awards, including the 1998 NY Drama Critics Circle Award for Best Musical, the 1999 Grammy for Best Musical Show Album, the 1999 Evening Standard Award for Theatrical Event of the Year and the 1999 Laurence Olivier awards for Best Choreography and Best Costume Design.
The proof is in the pudding, and every time that the cast takes to the stage they demonstrate why "The Lion King" deserves every accolade it gets.
From the opening vocals I began to feel chills. Then, as the cast came down the aisles adorned as various animals, I found myself entranced. I watched as the mouths of both young and old around me dropped open at the awesome inspiration and creativity they were experiencing. This musical by Elton John and Tim Rice (with additional songs by South African Lebo M and Mark Mancina, Jay Rifkin, Julia Taymor and Hans Zimmer and a book by Roger Allers and Irene Mecchi) is an unforgettable theatrical experience. "The Lion King," based on the Disney children's movie of the same name, teaches life lessons about family rivalry, jealousy, love and respect for the ancestors, and it captures the beauty and natural cycles that are part of nature.