Talking SCHOP! Harlem Holidays
Kysha Harris, Food Editor, @SCHOPgirl | 12/14/2017, 5:23 p.m.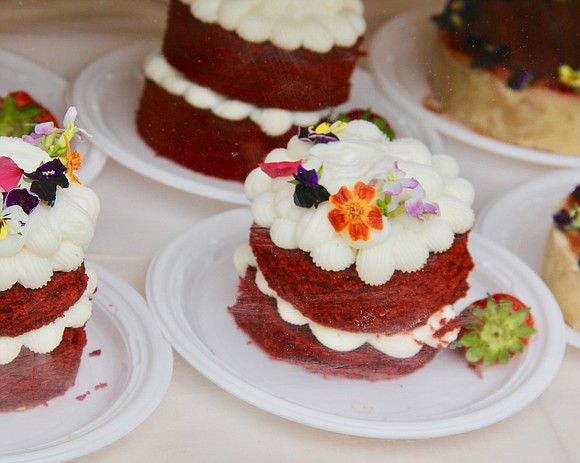 This past weekend my company, SCHOP!, planned and catered a lovely birthday brunch for one of my besties in the world, NiLu Harlem gift store owner Katrina Parris-Pinn. Per her requests, we would serve Harlem staples, both old and new, of Lee Lee's rugelach and BO's bagels with a smorgasbord of traditional brunch items.
It was lots of work for me and my team, but the reward is even greater knowing we have delivered a vision for our client.
The weekend's event got me to thinking about my fellow Harlem chef and caterer comrades-in-arms and what they can deliver to you this holiday season…everythang (with some extra stank on it too)! These talented food-makers have been serving it up for years with spirit and style.
Let us begin with Jim Brown of Elma's (elmasinharlem@gmail.com). I fell in love with Elma's food at a Harlem food truck event some years ago. Callaloo, codfish fritters, rice and peas sent my taste buds flying. In fact, my crew and I ordered from Elma's for our annual holiday gathering some years ago and are still talking about it.
As the talent manager for Harlem EatUp!, I was introduced to a bevy of talented Harlem chefs serving everything from that good "laissez les bons temps rouler" N'awlins food to modern American food. These chefs are not playing.
You will never, ever see Vaughn Moore of Mere's Viola Catering (violassweetdelights@gmail.com) not dressed to the nines. His fashion is an indication of the amount of detail he puts into his food. From boudin to baking, Vaughn will give you that bead-throwing, Zydeco-playing, Mardi Gras good time.
One can fall in love with the food of Darshellia Butler of Skillet Rose (darshellia.butler@yahoo.com) at first sight. It is some pretty, pretty food you cannot stop looking at to eat, but once it hits your mouth…baby…it tastes even better. With her signature hair, chef Butler is giving you rock-n-roll food with jazz hands. Get into it!
There are more Harlem food-makers who can make your holiday season a little easier, such as Adolis Tesfamariam of Lovely Rita (adulis77@gmail.com), which will soon be opening in Harlem. And order your holiday sweets from Raven Palmer of Cupcake Queen Raven (cupcakequeenraven@gmail.com) and Lynee Jordan of Deliciously Twisted Desserts (lyneejordan@live.com), too.
Shop local. Eat local. Christmas in Harlem!
Happy eating and thanks for reading!
Kysha Harris is a food writer and editor, culinary producer, consultant and owner of SCHOP!, a personalized food service in NYC for more than 15 years. Follow her on Twitter and Instagram, @SCHOPgirl, on Facebook, /SCHOPnyc, and her blog, www.talkingSCHOP.wordpress.com. Questions? Comments? Requests? Feedback? Invitations! Email AmNewsFOOD at AmNewsFOOD@SCHOPnyc.com. Follow us on Instagram, Twitter and Facebook @NYAmNewsFOOD and tag us with #SoAmNewsFOOD with your food finds!