Two civil rights icons—Simeon Booker Jr. and Ernest Finney Jr.
Herb Boyd | 12/14/2017, 2:06 p.m.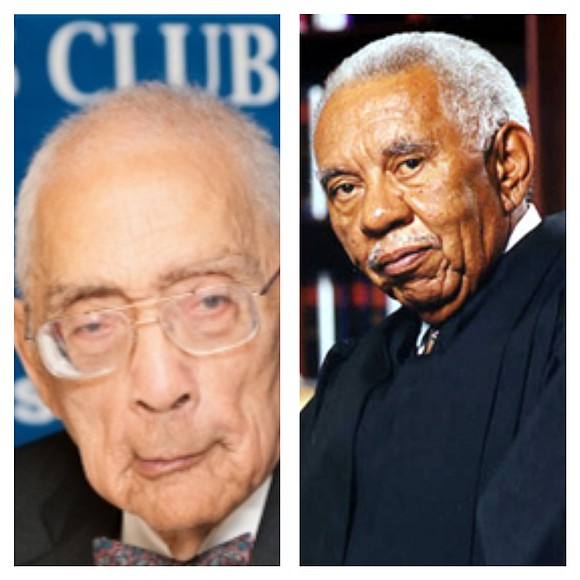 There is no way to say for certain if the journalist extraordinaire Simeon Booker and the eminent Justice Ernest Finney Jr. were ever at the same place at the same time, but given their eventful lives, particularly on the civil rights battlefields, they traversed some of the same historic ground.
Booker, a legendary reporter on the front line of the Civil Rights Movement, died Dec. 10 in Solomons, Md. He was 99. Finney, an illustrious jurist and the first Black Chief Justice in South Carolina, joined the ancestors Dec. 3 in Columbia, S.C. He was 86.
In 1961, as the sit-in movement gathered momentum, nine African-American students were arrested for keeping their seats at an all-white lunch counter in Rock Hill, S.C. Hauled into court, the Friendship Nine, as they were called, were represented by attorney Finney, who had earned his law degree only a year before. Rather than accept bail, the nine chose jail and propelled a strategy that was gradually being utilized by civil rights activists.
About the same time as Finney was in the courtroom fighting for his clients, Booker was on a bus, one of only two reporters among the Freedom Riders across the South to challenge Jim Crow laws on interstate transportation. Booker's venture here, an often terrifying trip from Atlanta to Birmingham, was just another phase of a journalistic career that would find him at the vortex of Black Americans' struggle for justice.
Born Aug. 27, 1918, in Baltimore, Booker became interested in journalism from a family friend who owned the Baltimore Afro-American. After earning a degree in English from Virginia Union University, he was hired by the Afro-American. Three years later, in 1945, he was employed at The Call & Post, a Black newspaper in Cleveland. Some of his stories were published in Ebony, and in 1950, he won a Nieman fellowship for a year of study at Harvard.
Booker, from 1952 to 1954, was the first African-American reporter at The Washington Post, but he was not satisfied with his assignments at the paper and left to join the Johnson Publishing Company, where he wrote for Jet and Ebony. Almost immediately after settling into the company and finding the latitude he sought, the Emmett Till story broke. Because he was based in Chicago, Till's hometown, Booker was dispatched to cover the subsequent trial in Mississippi.
In 1954, the same year of Brown v. the Board of Education and a year before Till's murder, Finney had earned his law degree from the South Carolina State University School of Law. Two years earlier he had earned his bachelor's degree from Claflin. He was born March 23, 1931, in Smithfield, Va. With a father who was often changing jobs, the family moved frequently, finally settling in Orangeburg, S.C., in 1946, where his father was named dean at Claflin College, now a university.
One of the most vivid memories Finney has of those peripatetic days was the constancy of his father's law books. "I have always felt that if America was to live up to its promises to all people, I thought the law would be the basis for change," he told a reporter.