Ailey Company's Jamar Roberts makes choreographic debut
ZITA ALLEN | 12/21/2017, midnight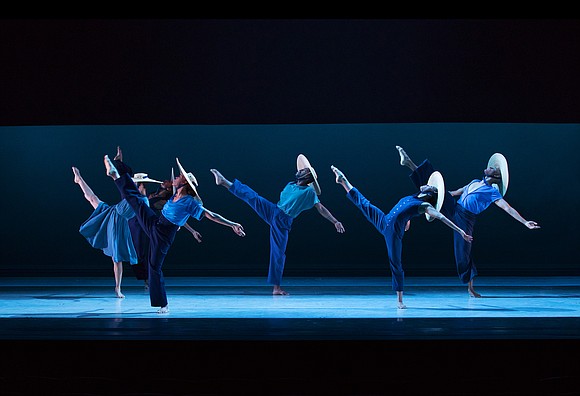 At 6-foot-4 Jamar Roberts stands tall in a crowd. He stood tall at the Opening Night Gala Benefit honoring Board President Debra L. Lee, BET Network chair and CEO. The gala was presided over by honorary chairs Queen Latifah, Janelle Monáe and Ailey Company Artistic Director Robert Battle. There Roberts appeared in Alvin Ailey's timeless masterpiece "Revelations" in the opening "I Been 'Buked" section, standing tall, arms outstretched with the wingspan of a soaring eagle, a tower of strength. Roberts embodies the Alvin Ailey American Dance Theater tradition of male dancers whose technique and artistry are enhanced by an ability to infuse even the smallest movement with a compelling sense of meaning.
Now, Roberts, a 15-year veteran with the Ailey company, is literally spreading his wings with a work Battle asked him to create for the AAADT entitled "Members Don't Get Weary," set to the powerful music of legendary American jazz saxophonist and composer John Coltrane. As a member of the Ailey family with all the warm nurturing and support that that implies, Roberts speaks like a man who has found the calm center of the hurricane.
Speaking of the ideas that compelled him to create this dance with its unusual, exciting movement vocabulary, Roberts said, "Well, I'm always obsessed with something." Battle came to him to discuss the work Roberts had created in 2015, "Gêmeos," saying that not only did he like that piece but he saw talent enticing enough to make him want to see more. Naturally, an excited Roberts immediately rolled up his sleeves and got to work. The result is "Members Don't Get Weary."
"Overall, the piece is about blues and oppression," he summarized. "In part, it harks back to a time gone by, a time when religion was our main source of comfort, a time when we turned to the church. When I was making it, the words that came to mind were the words "pleading" and "searching." You know when you're asking major questions about life a lot of times they're not directed at one person, especially when you're alone. You're just flinging them out into the universe, and I wanted this to be that kind of story where you're asking outwardly in various different ways."
Roberts said working with his Ailey colleagues makes the creative process go smoothly. "Everyone has been tremendously supportive," he remarked, adding that he enjoys sharing his thoughts and ideas with them as he creates the movement so they know what the dance is about. Roberts explained, "I like to tell them what it's about but not tell them too much because I want them to feel free to bring themselves, their personalities and stories, to the work as well."
"Members Don't Get Weary" is essentially an ensemble work with solos, trios and quartets that allow dancers to shine. If you follow the music, it works the way jazz works where everybody has their time to shine. "The dancers, like jazz musicians, get to give their spin on the melody," Roberts said.