Councilmember Inez Barron announces her candidacy for City Council speaker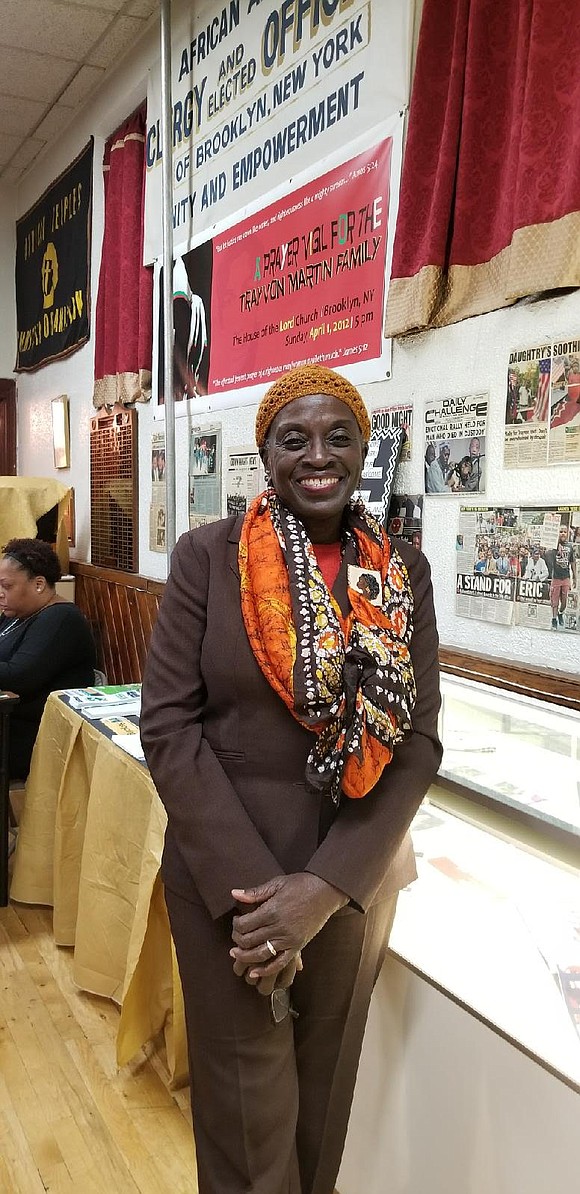 "I am running as a candidate for speaker of New York City Council," City Councilmember Inez Barron announced at a first day of Kwanzaa—Umoja—unity rally Tuesday night.
Standing next to her husband, rally co-host Assemblymember Charles Barron, and Viola Plummer, chair of the December 12th Movement, Barron made her announcement to a surprised, vociferous and excited audience in the large Black Jesus and Black art and newspaper-decorated community room downstairs in the historic House of the Lord Church in Brooklyn.
Assemblyman Barron declared, "It is time that we had a Black person as our City Council speaker. We cannot be such a large percentage in the city, yet continuously have white men determine who controls the City Council, the committees, the budget and what bills come to the floor. Black and Brown people are the majority in this city. We need to have control of what governs our lives."
"Usually the paradigms are that the masters and the bosses and other entities have decided who can get the 26 votes and in the City Council to choose the speaker, and, everybody falls in line with that," second-term Councilwoman Barron told the Amsterdam News. "Very few people don't follow the dictates of the county bosses because they get 'punished,' meaning that they don't get the plum chair assignments. They don't get to be on the more elite committees, which is finance, land use, education, ethics rules. There is a hierarchy. It always happens this way. I am trying to get a paradigm shift. If you don't support the speaker choice ... you never get chairs."
She added of her husband, "When Charles Barron offered his own name, they removed him as chair of higher education, even though they won and got 48 votes. It's not politically savvy to not pull in someone that you consider your enemy, but they punish people as a deterrent."
Last week, published reports announced that Manhattan Councilmember Corey Johnson had the votes to become the next City Council speaker, and Mayor Bill de Blasio threw his support behind him. "How can you say he has won before a single vote has been cast?" asked Assemblyman Baron.
Councilmembers Robert Cornegy and Jumaane Williams had not yet conceded that they were out of the half-dozen candidate race, while backroom conversations were said to going on.
As Plummer told the audience that they should spread the word and encourage their City Council members to vote for Councilmember Barron, Barron told the Amsterdam News, "We were trying to get behind the front runners to say that we got you ... they were supposed to be here and make a pronouncement ... but they're not here. We needed to back a candidate who was willing to go all the way."
The Amsterdam News reached out to several elected officials. Cornegy offered a "No" to a request for comment, but Williams said, "As I have been saying, these issues are beyond me or any particular candidacy. I'm glad that others are involved to help push the importance of elevating leaders of more color in powerful positions within government. I am particularly glad that women, whose voices are also too often marginalized, are confronting this issue head on."