The 45th annual VIV Awards celebrated Black theater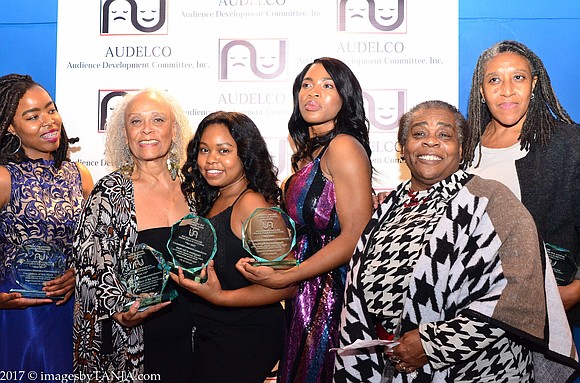 Oh, what a night! The 45th annual AUDELCO "VIV" Awards recognizing excellence in Black theater was fabulous at Symphony Space Monday, Nov. 20. It was a Black theater family reunion of the highest quality, and you could feel the love and friendship in the room. Have you ever been somewhere, and you felt comfortable, warm, loved and appreciated? Well, that's what it feels like to attend the Vivian Robinson AUDELCO Recognition Awards.
This year's theme was "Making History—Black Joy." It was a Sapphire Jubilee celebrating a 45-year legacy. This year was by far one of the most memorable AUDELCOs that I have attended. The mood was one of friends getting together to celebrate each other, and it was a marvelous event. The evening was hosted by Brenda Braxton and George Faison, and they were wonderful and very funny at the podium.
Out of 20 categories, the big winner of the night was "Autumn," which came away with six AUDELCO Awards, dubbed the VIV in honor of one of AUDELCO's founders, Vivian Robinson. "Autumn," a play from the Billie Holiday Theatre in Brooklyn, won for Dramatic Production of the Year; Playwright—Richard Wesley; Director/Dramatic Production—Walter Dallas; Lead Actor—Jerome Preston Bates; Supporting Actress—Pauletta Washington; and Supporting Actor—Count Stovall. I had the pleasure of seeing "Autumn" when it played at the Kumble Theater and it was brilliant. When asked about the recognition "Autumn" received, Wesley said, "We won in every category we were nominated in. I feel incredibly humble. This is the first full-length play I've written in 20 years and to come back like this."
It was also interesting to see that when Wesley's name was called for winning in the playwright category, the entire cast came onstage with him. Wesley explained, "I wanted to bring as many cast members on the stage as possible. No playwright can do this without such a tremendous amount of talent and pose."
In the musical category, "Bella: An American Tall Tale" from Playwrights Horizons received four VIV Awards: Musical Production of the Year; Director Musical Production—Robert O'Hara; Outstanding Performance in a Musical, Female—Natasha Yvette Williams; and Choreography—Camille A. Brown.
The Classical Theatre of Harlem's "The Three Musketeers" tied with four VIV Awards on the technical side: Lighting design—Kate Bashore; Set Design—Christopher and Justin Swader; Costume Design—Rachel Dozier-Ezell; and Sound Design—Luqman Brown.
Norm Lewis, who starred in "Sweeney Todd," won Outstanding Performance in a Musical, Male. Darius Smith received Outstanding Musical Director for "Raisin." "Daughters of the Mock" from the Negro Ensemble Company won for Outstanding Ensemble Performance. Timothy Simonson won Solo Performance for "Adam." Elizabeth Van Dyke came away with Lead Actress for her starring role in "Zora Neale Hurston," a New Federal Theatre production. Van Dyke became very emotional onstage and shared, "In 2008, my mother had a stroke and I'm her only child. I gave up acting. In 1991 I played Zora with Timothy Johnston. Fast forward 25 years, I didn't think I'd be acting at all. To be onstage in any shape or form and to have my work recognized in this way is just extraordinary. Thank you, Grace Jones, who was with me every step of the way with my mother. Thank you, Woodie King, who believes in me and New Federal Theatre."