Labor leaders talk 2017, Trump and the future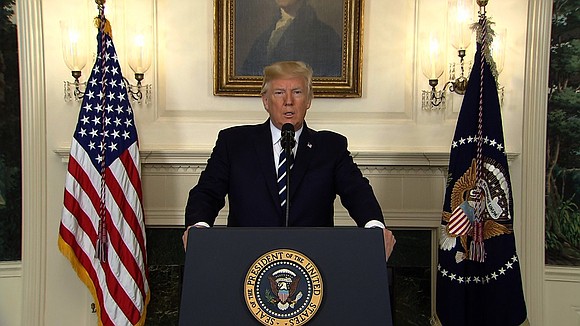 The year 2017 was a tough year for labor unions and union advocates, but those on the front lines championed accomplishments despite what the year offered them.
As the United States approaches the end of Year 1 of President Donald Trump, labors leaders such as Retail, Wholesale and Department Store Union President Stuart Applebaum told the AmNews that their push back against his vision showed their resolve.
"Despite Washington's despicable treatment of working people, this year, the needs of workers were heard in New York by both City Hall and in Albany," said Applebaum in a statement to the AmNews. "New York City workers saw an end to on-call scheduling in an outright ban signed into law by the mayor, and the governor called for hearings to expand on-call regulations across the state, which we anticipate will be implemented swiftly. We end the year on a high note with an initiative just announced by the governor to end the egregious wage theft issues that affect workers who are paid under the tip-credit system."
The Trump administration has showed its hand when it came to support for organized labor. Trump initially appointed Andrew Puzder to be labor secretary, but push back against his appointment forced him to step down. During his time as CEO of CKE Restaurant Holdings, Inc. (the company that owns the Carl's Jr. and Hardee's fast-food chains), multiple restaurants and franchises were found to have violated wage and hour laws and committed multiple safety violations. His backdown before confirmation hearings was a significant victory for labor advocates.
A 32BJ representative said that there were multiple victories, at least locally, for their union to celebrate.
"We organized over 5,000 new members into our union up and down the East Coast and won strong contracts for thousands more, including a first contract for 8,000 subcontracted workers at JFK, LaGuardia and Newark airports," stated 32BJ's representative. "In New York City, we have been able to notch more wins for workers with Mayor de Blasio and the City Council as progressive pro-worker leaders. This included standing with fast-food workers to pass a fair scheduling law so now they can plan their work and their lives. We mobilized thousands of members in New York State to volunteer during election season, ensuring we continue to have a progressive New York City and electing progressive Democrats in conservative strongholds in the Hudson Valley and Long Island."
Although requests for comment from the American Federation of Teachers were unsuccessful, a publicly released statement from AFT President Randi Weingarten issued after the short-term government funding bill was passed showcased her union's stance on the Republican agenda.
"The Republicans failed to pass a long-term solution to fund the Children's Health Insurance Program, threatening the health care of millions of children and making it impossible for states to figure out how to budget for this program next year," said Weingarten last week. "The Republicans failed to pass the Dream Act, jeopardizing the futures of 800,000 students, teachers, doctors, nurses, lawyers and other young people who played by the rules, did everything we told them to do and now face the threat of deportation. The Republicans failed to pass a disaster relief bill that adequately addresses the needs of Americans still recovering from this year's hurricanes and natural disasters—especially in Puerto Rico and the Virgin Islands, where the federal response has been woefully inadequate. And the Republicans failed to lift the arbitrary sequester caps that hamper investments in programs that help working families.