One World: Literature and Art
12/29/2017, 11:47 a.m.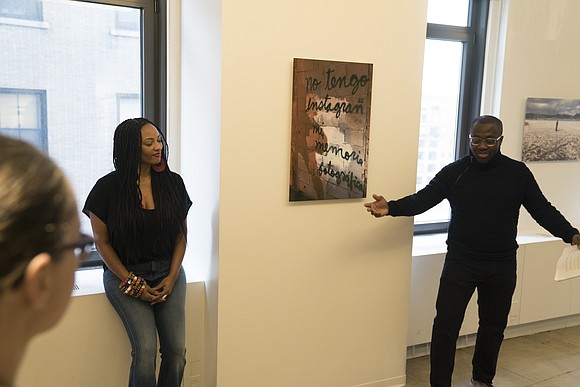 "Portals: A Solo Exhibition by Shani Jamila Presents One World: Literature and Art" was recently held at the at the Urban Justice Center, and was presented by the artist, a cultural worker with more than a decade of leadership in designing and executing innovative programs that use the arts to catalyze social change. She is a TED Resident and a managing director of the Urban Justice Center in New York City. Jamila presented the event along with Larry Ossei-Mensah, a Ghanaian-American independent curator and cultural critic.
The event included a tour of her show, introduced by Ossei-Mensah, and segued into a talk with Chris Jackson, publisher and editor-in-chief of One World Random House and editor of a wide range of award-winning and bestselling authors, including Bryan Stevenson, Ta-Nehisi Coates, Jill Leovy, Trevor Noah, Matt Taibbi and Eddie Huang. (Richard Louissaint photos)