'Roman J. Israel, Esq.' makes a strong case for seeing this film
T.A. MORELAND | 12/29/2017, 11:27 a.m.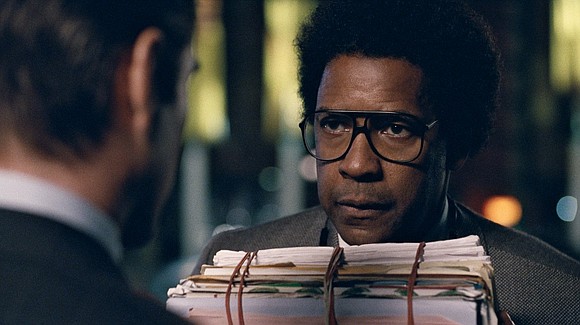 It's a law firm operating on a shoestring. One attorney goes to court and is the face of the firm. Another, Roman J. Israel (Denzel Washington), is the behind the scenes operator, doing the research and the writing. But the firm has a calling: civil rights. It not about money; it's about fighting the battles for the underdogs. The firm stays alive just barely making it until one day, the lead attorney, the face of the firm is incapacitated by a massive heart attack. He doesn't survive. Without him, the firm can't make it because he's the face. Nobody knows Roman. So Roman tries to find a position with a community group led by Maya Alston (Carmen Ejogo), but they only have volunteer slots. He has no choice but to accept an offer from a mega firm lead by George Pierce (Colin Farrell), who is impressed by Roman's photographic memory of codes and case law.
At this point, Roman is truly conflicted over the riches that come along with his new life versus his old commitment to the needy and its corresponding poverty.
"Roman J. Israel, Esq." is a uniquely entertaining film and is a See It! It's not an exciting or feel good movie. It's buoyed by a fascinating character. The character, Roman J. Israel, almost overshadows the plot and will certainly be more memorable than the movie itself.
The film's writer and director, Dan Gilroy, said he wrote the script specifically for Washington and would not have made the film without him, which makes sense. This performance is one that only Washington could have given. Washington captures this eccentric character down to his ticks, such as constantly adjusting his large glasses. He gains weight but also wears oversized shoes to affect his gait, and he sports an afro, a fittingly bad one at that.
Although Israel comes across authentically, he is a fictionized character.
The plot helps viewers get to know the protagonist by showcasing in detail the day-to-day grind of this "true believer" in the struggle, but later puts him a philosophical bind, to the point where he states in frustration, "I am tired of doing the impossible for the ungrateful."
Although Israel is the proverbial larger than life creation, this fact does not take away from the outstanding performances of Colin Farrell's George Peirce, who has his own conflicts with working in a big-money, dog-eat-dog law firm while trying to hold on to his own sense of humanity. Additionally, Ejogo has a strong presence in the film as Israel's fan and confidant.
"Roman J. Israel, Esq." gets an A for cast diversity. Set in LA, it necessary must and indeed does have a very diverse cast.
See "Roman J. Israel, Esq.," because although you might forget the details of this movie, you won't forget Roman J. Israel, Esq. It's 129 minutes and is rated PG-13 for language and violence.