Executive disorder: Trump ban leads to chaos and mass mobilizations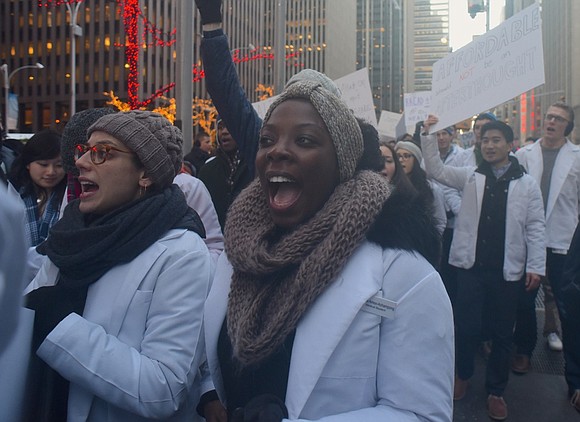 "Flagrantly unconstitutional," is what New York State Attorney General Eric Schneiderman called President Donald Trump's Friday, 27, 2017, executive orders suspending the admission of all refugees for 120 days and banning the admittance of Muslims from Sudan, Somalia, Libya, Syria, Iran, Iraq and Yemen into the U.S. and barring all Syrian refugees indefinitely.
Unprecedented has been the immediate and take-it-to-streets response worldwide.
Trump's promised and swiftly implemented actions drew tens of thousands of people to major airports such as JFK, LAX and others as almost 400 people were denied entry into the country as they disembarked from international flights. Swarms of lawyers, many working pro bono, and placard-hoisting protestors clogged the airports this past weekend demanding that detained travelers be released, and that Trump rescind his draconian order. As he signed the order at the Pentagon, Trump said, "I am establishing new vetting measures to keep radical Islamic terrorists out of the United States of America."
While many nations across the world, including the affected nations plus Nigeria and Germany, condemned Trump's orders, in Britain the parliament debated whether they should ban America's 45th president from entering the country.
As Schneiderman joins a federal lawsuit "to permanently strike down this dangerous and discriminatory order," it still has many people's lives disrupted. Families, doctors, teachers, students, and children are separated, in limbo, unable to travel home or join families and friends. The fear is palatable in subway cars, on street corners, in cafes, in mosques, on call-in radio shows, on cable and network news show, in school yards, in college campuses, in churches and behind the closed doors of family homes.
Saturday, as chaos ensued at JFK and other airports across the nation, Americans Civil Liberties Union and immigration lawyers descended, and a Brooklyn federal judge put a temporary stay on at least a portion of Trump's executive order, allowing the release of those detained.
Judge Ann M. Donnelly said their treatment "violates their rights to due process and equal protection guaranteed by the United States Constitution."
The White House spokesperson stated, "It is the right and duty of the president to do everything in his legal and constitutional power to protect the American people ... Saturday's ruling does not undercut the president's executive order. All stopped visas will remain stopped. All halted admissions will remain halted. All restricted travel will remain prohibited. The executive order is a vital action toward strengthening America's borders, and therefore sovereignty. The order remains in place."
LaRay Brown, CEO of Interfaith Medical Center, spoke of the now barred Dr. Kamal Fadlalla, a second year resident in internal medicine at Interfaith Medical Center in Brooklyn from Sudan. In the statement sent to the AmNews, Brown stressed, "American patients rely on doctors trained at foreign medical schools. Each year, around a quarter of the residents and fellows in advanced training programs around the U.S. attended medical school outside the country. About 15 to 20 percent of the total are not U.S. citizens."
Fadlalla's union is currently doing everything they can to help him navigate this situation.