Medical students, deans and faculty demand Congress #DoNoHarm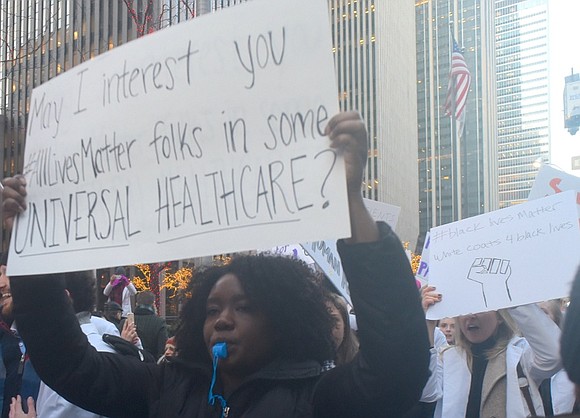 Monday, Jan. 30, 2017, was declared the National Day of Medical Student Activism to express outrage that congressional moves on health care will lead to 43,000 unnecessary deaths per year. A "Die-In" protest was held outside the News Corp building on the Avenue of the Americas, in Manhattan.
Medical school students, faculty and administrators from across New York stood in solidarity with millions of Americans at risk for losing their health care coverage if the Affordable Care Act is repealed. As part of a national day of action on medical school campuses, students nationwide, including students from New York City, New Haven, Conn., San Francisco, Chicago, Seattle, Providence, R.I., Hanover, N.H., Boston and Washington, D.C., conducted teach-ins, rallies and public protests to highlight the catastrophic consequences of repealing the ACA. They demanded that Congress take a stand against repeal proposals that will place the health and well-being of patients at risk. The students pledged to fight to protect and expand health care access for millions of Americans who depend on the law. Some medical schools called off classes and clinical rotations to support this action. Some of the schools that took part include Yale school of Medicine, University of California San Francisco School of Medicine, University of Washington School of Medicine, Geisel School of Medicine at Dartmouth, Alpert Medical School of Brown University and Harvard Medical School.