No Muslim ban, No border ban, U.S. communities standing together
SAEED SHABAZZ | 2/2/2017, midnight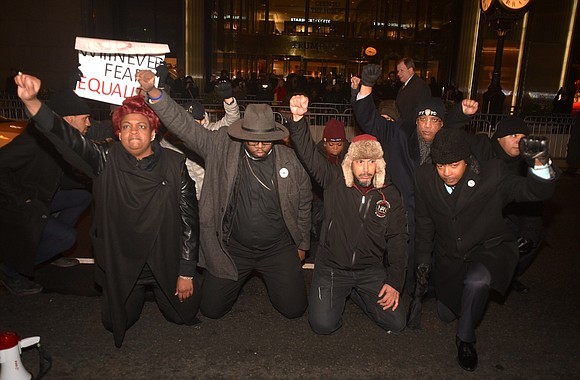 Lutfa Adnan and her family joined thousands of vocal protesters at Philadelphia International Airport Jan. 29, chanting "Let them in!" Demonstrators said they were speaking out against President Donald Trump's executive order placing temporary bans on entry into the U.S. by people from seven Muslim-majority nations.
"It was so energizing, my heart was aching," Adnan of Cherry Hill, N.J., explained to the AmNews. "It was so painful to see what was happening on television. I had to be there."
Sara Flounders, a member of the NYC-based Workers Organization explained in an email to the AmNews the feelings of the thousands who had descended on JFK Airport Jan. 28. "Tonight was a vibrant display of 'People Power.'" stated Flounders, co-founder of the International Action Network. "The speed of Trump's proclamation was intended to demoralize and overwhelm the whole population. The opposite happened."
Flounders added, "Every minute of tonight was an incredible, empowering experience."
However, the 45th president showed that he would not be swayed by the tens of thousands who had taken to the streets when, on Jan. 31, he fired Acting U.S. Attorney General Sally Yates. According to CNN, she told Justice Department lawyers not to defend Trump's executive order on Muslim immigrants and refugees because it was unlawful.
Reportedly, Trump notified the defiant Yates via a hand-delivered letter while a new acting attorney general was sworn in. The president said Yates had "betrayed" the Justice Department, according to CNN. Meanwhile, protests have moved into the fourth day, as Huffington Post released a statement from former President Barack Obama's spokesman that said, "President Obama is heartened by the level of engagement taking place in communities around the country."
Sen. Tammy Duckworth (D-IL) and Sen. Dick Durbin (D-IL) also on Jan. 29 called on the U.S. Department of Homeland Security's Office of Inspector General to immediately initiate an independent investigation into the agency's potentially illegal implementation of Trump's executive order.
In the letter, obtained by the AmNews the Senators asked how U.S. Customs and Border Protection prepared to implement the executive order and what guidance they provided to the White House during its development.
New York State politicians jumped into the fray Jan. 30. Queens Senator Leroy Comrie (D) in an email message to the AmNews stated, "Today, I joined my fellow Democrats in the State Senate in announcing the Resistance Agenda, three bills designed to protect refugees, immigrants and foreign students from the harmful consequences of the president's recent actions."
The state legislators have also established a 24-hour, toll-free hotline at 1-888-769-7243 for anyone who suspects that their friends or family may have been detained.
On the international front, the group founded by the former president of South Africa, Nelson Mandela, known as The Elders, which consists of Martti Ahtisaari, Kofi Annan (chair), Lakhdar Brahimi, Gro Harlem Brundtland (deputy chair), Hina Jilani, Ricardo Lagos, Graça Machel, Mary Robinson and Ernesto Zedillo, took issue with Trump's executive order.
"It is deeply regrettable that a nation of immigrants should turn its back so harshly on refugees escaping violence and war," Annan, a former U.N. secretary-general, said.