Trump the tyrant
Herb Boyd | 2/2/2017, 4:28 p.m.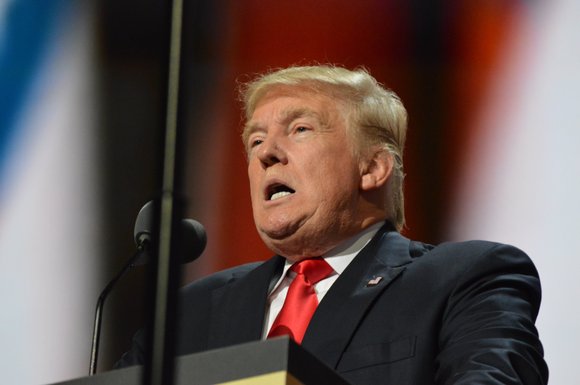 With each tweet, with every stroke of his poison pen, President Donald Trump expresses an unbridled, tyrannical behavior that has aroused a nation with increasing alarm and outrage.
Last Friday, Trump unleashed an executive order stopping all refugees from entering the country for four months and barred people from seven predominantly Muslim countries, including Iran, Iraq, Libya, Somalia, Sudan, Syria and Yemen. Conspicuously absent from the list were Saudi Arabia and Egypt, two countries where Trump has major enterprises.
That order set off a wave of protests from Los Angeles to New York City, mainly at airports where for hours passengers—even those with green cards—were detained. Almost immediately lawsuits were filed by the ACLU, prompting judges in New York and Virginia to grant a stay of removal, preventing the deportation of the arrivals with valid visas.
When Acting Attorney General Sally Yates defied Trump by refusing to defend his order on immigration, Trump fired her. "At present, I am not convinced that the defense of the executive order is consistent with these responsibilities nor am I convinced that the executive order is lawful," Yates wrote. Trump selected Dana Boente, U.S. attorney for the Eastern District of Virginia, to replace her. Both Boente and Yates were appointed by President Obama.
Boente is in place until Jeff Sessions is confirmed, which is almost guaranteed on Tuesday. Less assured is the confirmation of Trump's Supreme Court nominee, and whether it's Judge Thomas Hardiman or Judge Neil Gorsuch, the two leading contenders, they can expect a filibuster from the Democrats. Cabinet nominees can't be filibustered.
Trump's latest machinations have moved Obama to react, after he had promised to give the new president time to adjust to the office. Through a representative he said he was "heartened by the level of engagement" expressed by the protesters.
Among elected officials, he was hardly alone. A number of Democrats in Congress demonstrated outside the Supreme Court Monday, denouncing Trump's order. Even more than two dozen Republican have refused to endorse Trump's new policy.
Republican senators John McCain of Arizona and Lindsey Graham of South Carolina released a statement chiding Trump's process as hasty and risking "harmful results." They said that Trump had acted with "little consultation with the departments of State, Defense, Justice and Homeland Security." Moreover, they believed the executive order may do more to help "terrorist recruitment than improve our security." Already there are reports that ISIS is claiming the executive order as a victory for them.
According to experts, there is little hope that Trump's edict will bring about a meaningful reduction in terrorism in the U.S., which has been insignificant since 9/11. Since the attack in 2001, one expert asserted, "123 people have been killed in the United States by Muslim terrorists…out of a total of more than 230,000 killings, by gang members, drug dealers, angry spouses, white supremacists, psychopaths, drunks and people of every description."
The expert concluded, "So the order addresses, at most, one-1,870th of the problem of lethal violence in America. If the toll of Sept. 11 is included, jihadists still account for just over 1 percent of killings."
This fact is a truth that probably means nothing to the irrational Trump, who as one writer noted is "allergic to the truth."