Vicki Garvin was a revolutionary at home and abroad
Herb Boyd | 2/3/2017, 4:27 p.m.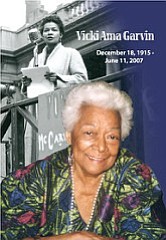 The prospects for change with the political currents blowing forcefully across Africa were hopeful, and then the optimism vanished and the dream of total liberation of Africa came to a crashing halt in the coup that deposed Nkrumah. Garvin and the other African-Americans—of course Du Bois was dead by now—had to find another place to settle. Garvin had already begun expanding her horizon in 1964, two years before the coup, accepting an invitation from the Chinese government. Subsequently, she moved to Shanghai and was employed at the Shanghai Foreign Language Institute where she taught English.
Garvin avoided one social upheaval in Ghana only to experience another one in China in 1966, and she relocated to Beijing as editor of an English newspaper. She was later invited back to Shanghai after Mao issued his statement "In Support of Afro-American Struggle Against Violent Repression" in 1968. Her voice was a powerful resonance among the students in China, and she was often a guest speaker at a number of international events in China and elsewhere. That prominence was not ignored in America, and she returned in 1970 with her husband to a certain amount of fanfare among her radical friends and associates.
From her new base in Newark, N.J., she became director of the Tri-City Citizen's Union and later at the Center for Community Health Systems of Columbia University. In 1974, no longer at Columbia, she became an editor for the New China, a newspaper published in China by the U.S. China Peoples Friendship Association.
Ever the restless soul, Garvin and her husband moved to Chicago in the late '70s, where she was soon a member of the Revolutionary Communist Party. A veteran of struggle, she provided her young charges with lessons from past struggles. As the next decade arrived, Garvin, now divorced, settled in Jamaica, Queens. Always a joiner, she lent her services to the National Black United Front, and once more her experience was invaluable. She was at the helm of the organization's Women Committee and traveled to Kenya for the U.N.'s World Conference on Women in 1985.
Her membership in such groups as the Sisters Against South African Apartheid, Black Workers for Justice and the Black Radical Congress was readily welcomed and she continued her mentoring. She was a vital force in the fight to free Mumia Abu-Jamal and other political prisoners when she joined the ancestors in June 2007 after a battle with a dreaded illness.
But right to the end of her eventful days, Garvin was a fighter for freedom and justice and has earned a select place in the pantheon of revolutionary activists.