Queens College keeps winning streak going
Lois Elman | 2/9/2017, 11:09 a.m.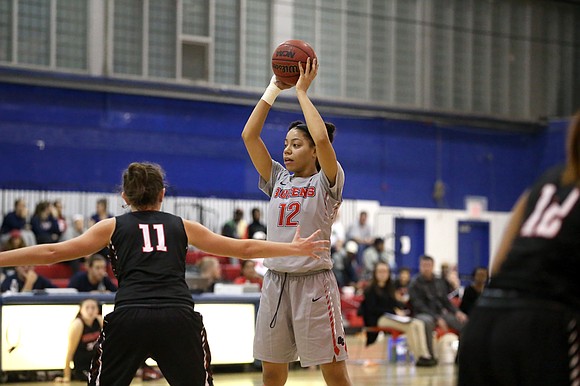 With a 19–3 record and a Division II national ranking of 21, Queens College women's basketball is going strong. As the Knights head into the final weeks of regular season play, the team is in sync and working well together. Collaboration and teamwork come naturally to three members of the team, the Rowland sisters. MacKenzie, Madison and Merrick Rowland grew up in an athletically gifted family of five kids in the Albany area.
The eldest of the three Knights, MacKenzie, knew she wanted to attend college in the New York City area. When she chose Queens College—inspired by then new coach Elizabeth Naumovski's vision to build a winning program—she set in motion an extraordinary scenario that allowed her to accomplish exactly what she set out to do and enabled Madison to become one of the pre-eminent D II players in the country.
"It's actually pretty amazing. It worked out perfectly," said MacKenzie, who overcame a torn ACL freshman year. "I wanted to say I went to a program and helped turn it around compared to I went to a winning program. Not a lot of people can say that.
"We keep getting better and better and that's probably most satisfying."
A fifth-year senior who completed her bachelor's degree in media studies last year, MacKenzie decided to take advantage of a final year of playing eligibility so she and Madison could finish together with the best season possible. For the fall semester, she took art courses—art history, drawing and design—and this semester she's taking sociology courses to convert her minor into a major.
Among her college highlights are playing in the Maggie Dixon Classic at Madison Square Garden in a game that marked the 40th anniversary of the first women's college game at the Garden. "I felt honored and lucky," said MacKenzie. "Being on the floor and looking at the stadium was incredible."
After the end of this semester and Madison's graduation, MacKenzie is going to take a year off, work and then apply to law school. Before that, there are more games to play and she hopes to win an East Coast Conference title and another trip to the D II NCAA Tournament.
"This team is very competitive and we don't like to lose," said MacKenzie. "It's nice to say I did this with my sisters."