Stage and screen acting vet Santiago-Hudson directs 'Jitney' on Broadway
Nadine Matthews | 2/9/2017, 12:12 p.m.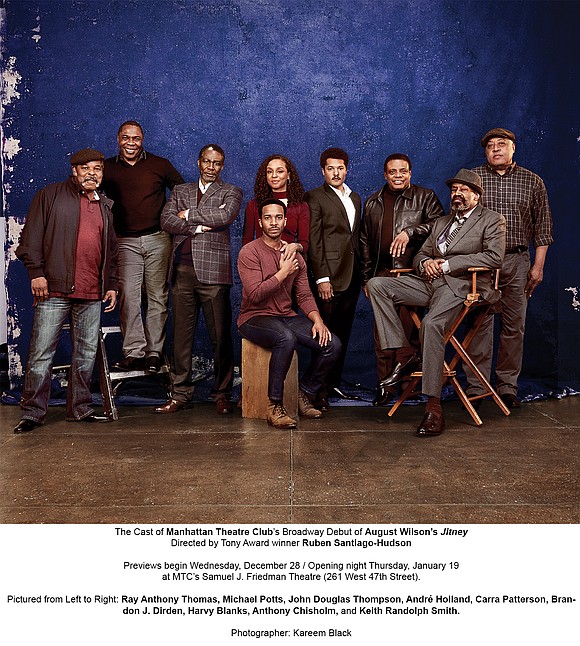 Ruben Santiago-Hudson's career got off to as auspicious a start as one could hope for. His very first film role was a small part in the star-studded "Coming to America." Thirty years later, he is still going strong, appearing regularly in television and film roles. His latest is band director of fictional HBCU, Georgia A&M,in BET's upcoming "The Quad," which also stars Anika Noni Rose and Jasmine Guy. As familiar with stage as he is with screen, Santiago-Hudson has won a Tony for his acting in "August Wilson's Seven Guitars" and an Obie for directing "The Piano Lesson," also an August Wilson play.
It is fitting then that he is directing the production of "August Wilson's Jitney," currently on Broadway. "Jitney" is a workplace comedy-drama that tells the story of a group of gypsy cab drivers, with a special emphasis on the broken relationship between the owner of the cab company, Becker, and his son, Booster, who has just been released from prison. Like many of Wilson's 10 plays, it takes place in Pittsburgh's Hill District, where the playwright himself grew up. Although the Lackawanna born and raised Santiago-Hudson went to school for acting (BA in acting from SUNY Binghamton and MFA in acting from Wayne State), directing was always something that he knew he wanted to do.
"I just wanted to tell my stories," he said. "I didn't know what it would entail—actor, director, writer. I just wanted to tell my stories depicting Black people as whole human beings, not just as caricatures, facsimiles."
It was the legendary Wilson himself who got Santiago-Hudson directing again. "I had been directing for decades and I took a leave," he said. "I stopped directing about 20-plus years. He was the guy that inspired me to direct his plays, that I should be directing again so I took his cue and jumped back in."
For "Jitney" in particular, Santiago-Hudson approached the famed Manhattan Theater Club about staging a production of the play and they ultimately agreed. "It was just that it needed to be done," said Santiago-Hudson. "Anytime would have been the right time. The impetus of it was August had written 10 plays and only one had not gone to Broadway and that was 'Jitney,' and when August was ill, he and I discussed it and I made a vow to him that I would do everything in my power to complete the cycle of 10 plays written and 10 plays on Broadway. I needed to find a way—the wherewithal—to do the final play which was 'Jitney,' which had an extraordinary life off-Broadway but had never opened on Broadway."
"Jitney" is a play of incredible energy and deep emotion. Michael Downing, editor of the August Wilson website and blog and associate professor of English at Kutztown University, remarked, "The beats of the characters, the rhythms of the language, the overall flow and tempo … it's like hip-hop onstage, punctuated by the regular ringing of the telephone. It crackles. The telephone itself is an excellent device for Wilson, as it enables him to add even more language nuance to the play. As has been established, Wilson's ear is one of his significant strong points. With the telephone, we get to hear Becker and occasionally other characters speak into the phone and to other characters onstage. In this way, the play actually represents two levels of dialogue, an 'internal' voice, used within the jitney station and an 'external' voice, used to speak to customers."