Tillerson will not write Guyana's laws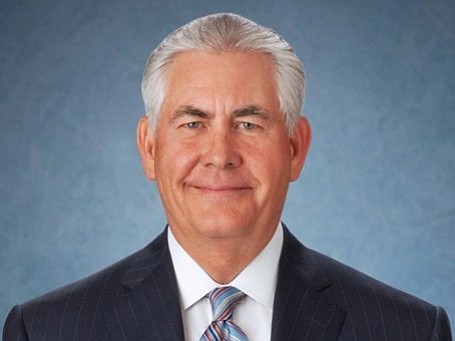 While the newly minted administration of President Donald Trump fights with the justice system on immigration issues, Guyana's government has found itself on the defensive about the role former ExxonMobil boss and current Secretary of State Rex Tillerson could play in the country's fledgling oil and gas sector.
Tillerson retired from Exxon after he was tapped by Trump to join his cabinet. He quit after 40 years a day before he was to fly to the Caribbean trade bloc headquarters nation to meet with Guyanese authorities regarding the company's extensive oil and gas find off the Guyana coast.
The oil, said to be worth $70 billion, has not only helped to put the country in the group of emerging nations but also brought increased attention from investors and greater scrutiny about Exxon's record of operating in Third World countries, in addition to alleged conflict of interest issues with Tillerson at the State Department.
Forced to refute recent stories in the Huffington Post and The Washington Post, Foreign Minister Carl Greenidge was this week adamant that neither Tillerson nor any agency within the State Department would have any undue influence in local oil and gas regulations going forward.
Despite his denials, industry experts allege that the State Department's Energy Governance and Capacity Initiative is aimed at preventing powerful corporations from exploiting small nations with poor oversight from eventually having to treat riches as resource curses. The contention is that Tillerson will now have great influence on that program as it helps Guyana "write profit sharing agreements, environmental regulations and develop a strong rule of law to counterbalance corporate power."
Greenidge says although regulations are being currently upgraded for the emerging oil and gas sector, systems were in place before the mid- 2015 find 120 miles off the Guyana coast.
"Guyana passed legislation on oil exploration and its exploitation long before the Exxon discovery—as far back as 1986," Greenidge contended. "It is worth noting that while Guyana has received technical assistance from time to time from countries, several countries, most notably from Canada and the U.K. in the years after independence, Guyana itself has also contributed in this field to many international agencies, such as the Commonwealth Secretariat and the World Bank as well as foreign governments from Papua New Guinea to Ethiopia. Guyana is hardly the country without expertise, or the country wholly dependent on the U.S. that the author attempts to portray it as."
Exxon has drilled five wells so far. Only one has come up dry. Exxon recently announced the sighting of addition deposits below the Liza 1 well, which had yielded the first set of "world class deposits" of oil and gas.
Production is now set to begin around 2020, making the largest of the bloc of 15 nations the latest producer alongside Trinidad, Belize, Suriname and Barbados.
The find has also forced the country to begin to switch from dependence on gold, sugar, rice, bauxite and timber for economic survival.