Ferdinand Lee Barnett, publisher, lawyer, civil rights activist
Herb Boyd | 2/10/2017, 4:12 p.m.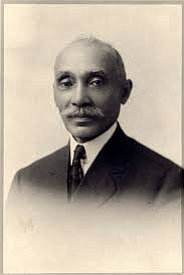 For several weeks I've been mulling over the idea of featuring a profile of the men behind famous women. That idea was given impetus today as I was reading the Styles section of The New York Times, which had a story about the marriage announcement of Ida B. Wells and Ferdinand Lee Barnett in 1895. We all know about the incomparable commitment of Rosa Parks but not much about her husband, Raymond. The same can be said about Barnett, who languished in the shadows of his wife's courageous fight against lynching and white supremacy.
But languishing may not be the right word, because much like Raymond Parks, Barnett was an ardent freedom fighter in his own way as a publisher, lawyer and an unflinching advocate for social and racial justice.
Barnett's birthdate, depending on the source, is either 1858 or 1859. There is no dispute about his place of birth in Nashville, Tenn., where he was the son of a slave who purchased the family's freedom and moved the family to Canada. The family moved to Chicago in 1869, where Barnett earned his law degree from an affiliate of Northwestern University in 1878. He was around 20 years of age when he founded the Chicago Conservator newspaper, the city's first African-American paper and the state's second. It was a four-page, six-column publication, although it's not clear if it was a daily, weekly or monthly. Whatever the schedule, it had an approximate circulation of 1,000 in the early years, which was quite remarkable given that Chicago's Black population was less than 7,000.
The paper's focus was on race, politics and community news, but with an unusual even-handed approach. Even so, it was unwavering in its advocacy for social, economic and political equality.
In 1882, four years after launching the paper, Barnett stepped aside as the editor to concentrate on practicing law. Thirteen years later, in 1895, he sold the paper to Ida B. Wells, who continued to publish it until 1914. The same year he sold her the paper they were married. (His first wife, Molly Graham, died when their children were very young.) He and Ida purchased a home on East State Street, in an all-white neighborhood, and were met with hostility, but no overt violence.
As a prominent lawyer, Barnett served 14 years as an assistant state's attorney. He also represented the Wells-Barnett Negro Fellowship League, and in that capacity won a case before the Illinois Supreme Court on behalf of a Black man wrongly accused of murder.
Barnett was a member of several organizations, including the National Conference of Colored Men of the United States. One of his most memorable public speeches was delivered before this body in 1879 in Nashville, and entitled "Race Unity." Here are a few excerpts from it:
"Mr. Chairman and Gentlemen of the Conference: The subject assigned me is one of great importance. The axioms which teach us of the strength in unity and the certain destruction following close upon the heels of strife and dissension, need not be here repeated. Race elevation can be attained only through race unity. It is a general enlightenment of the race which must engage our noblest powers. One vicious, ignorant Negro is readily conceded to be a type of all the rest, but a Negro educated and refined is said to be an exception. We must labor to reverse this rule; education and moral excellence must become general and characteristic, with ignorance and depravity for the exception.