Supreme Court nominee: Smooth-talking anti-civil rights conservative
GLORIA J. BROWNE-MARSHALL | 2/10/2017, 3:15 p.m.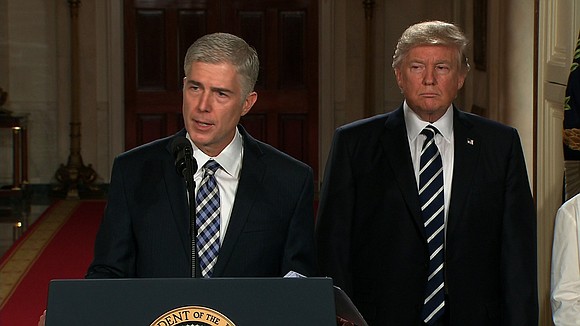 Neil Gorsuch, 49, poised to be the next justice of the U.S. Supreme Court, was introduced to the world Monday. Despite Donald Trump's theatrical tricks, Gorsuch is a serious social conservative about whom civil rights leaders are expressing deep concern.
NAACP Legal Defense Fund Director Sherilynn Ifill said, "Already, we are deeply troubled by statements Judge Gorsuch has made criticizing the role of courts in protecting equal rights—bemoaning an 'addiction to constitutional litigation'—and decisions that have undermined legal protections for workers, women, students with disabilities and victims of police violence and employment discrimination."
An examination of Gorsuch's legal opinions reveals a reputation for ignoring long-held deference for the federal government. Proponents of the Affordable Care Act believe he, like Scalia, will work to dismantle it. The Equal Employment Opportunity Commission, which handles thousands of discrimination claims, and the Environmental Protection Agency, along with other federal agencies, may find Gorsuch voting against them.
Gorsuch is pro-life. Promotion material for his book titled "The Future of Assisted Suicide and Euthanasia," written in 2006, states that "human life is intrinsically valuable and that intentional killing is always wrong." Yet, Gorsuch has religiously upheld the death penalty.
Gorsuch was appointed to the appellate court by President George W. Bush in 2006. Gorsuch is a graduate of Harvard College and Harvard Law. He attended Oxford University as a Marshall Scholar and clerked for Supreme Court justices Byron White and Anthony Kennedy and Judge David Sentelle of the D.C. Court of Appeals, all conservatives.
Gorsuch was chosen to replace the late conservative Antonin Scalia, an opponent of social justice issues. Scalia was known for his bombastic blasts from the bench. He voted to gut the Voting Rights Act and ruled against the Affordable Care Act. He opposed abortion and affirmative action. Scalia became visibly emotional when the Court ruled in favor of marriage equality for gays.
Scalia died suddenly in February 2016. Afterward, conservatives left the Court with eight justices, refusing to give Merrick Garland, a moderate nominated by the Obama administration, a hearing or vote. Instead, Senate conservatives wagered on taking the White House later and filling the seat with a justice as staunchly conservative as Scalia. Gorsuch is that conservative but with a smoother style. A justice using a plain-text reading of the Constitution would provide cold comfort to women and people of color in the 21st century as a justice of the Supreme Court. Like Scalia, Gorsuch believes in reading the plain text of the Constitution, which was written in 1787 when women could not vote and most African-Americans were enslaved.
Gorsuch is the son of the late Anne Gorsuch (Burford), a Ronald Reagan conservative and the first administrator of the Environmental Protection Agency. However, in 1983, she resigned from the EPA while cited for contempt of Congress, according to The New York Times. A subcommittee of the House of Representatives had demanded documents relating to alleged mismanagement of a toxic waste cleanup. She refused.
For Gorsuch, conservative Senate Republicans have pressed for a public hearing and vote. When Gorsuch became an appellate court judge he had strong bipartisan support. However, Senate Minority Leader Charles Schumer (NY-D) and many civil rights organizations have pledged to fight this conservative's confirmation.
Gloria J. Browne-Marshall is an associate professor of constitutional law at John Jay College (CUNY). She is a playwright and the author of several books, most recently "The Voting Rights War," and writer of a syndicated legal correspondent for African-American News & Information Consortium.