Democrats, advocates question ICE raids after hundreds of arrests
Tal Kopan, CNN | 2/13/2017, 3:12 p.m.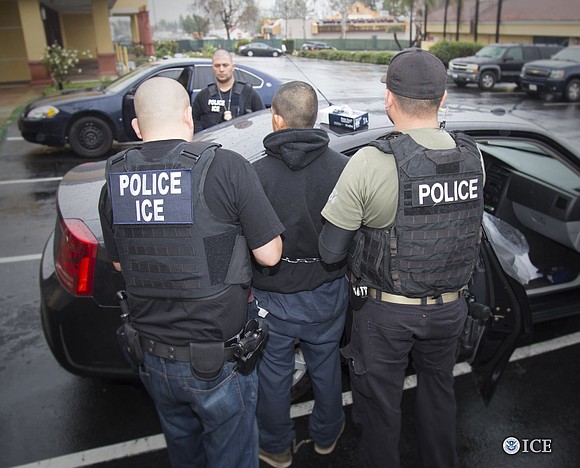 WASHINGTON (CNN) -- Immigrant rights activists and Democrats are raising concerns this weekend about recent immigration enforcement actions -- though immigration officials maintain that only routine actions targeting criminals were underway.
Fear is running high among immigrant communities since President Donald Trump's inauguration -- and after the recent publicized deportation of an undocumented Arizona mother of two after a routine visit with immigration officials, reports have been spreading of Immigration and Customs Enforcement stepping up its actions nationwide.
The actions are the first concerted effort by ICE under the Trump administration to arrest targeted undocumented immigrants for deportation proceedings.
It's unclear at this point in the nascent administration whether it was a sign of things to come, or whether the actions were conducted under any different procedures than could have been in place under the Obama administration.
Trump claimed credit for the raids Sunday, tweeting: "The crackdown on illegal criminals is merely the keeping of my campaign promise. Gang members, drug dealers & others are being removed!"
It was the uncertainty, the publicity of the raids and the high tensions raised by public comments on immigration by Trump administration officials that had Democrats asking for more information.
California Rep. Lou Correa fsent a letter to immigration officials, outlining the unanswered questions related to the latest immigration enforcement actions.
"These activities have caused fear and uncertainty for many of constituents," Correa wrote, and listed 10 questions for ICE, among them "What are the agency's priorities for removal? and "How far in advance were these enforcement activities planned?"
David Marin, Los Angeles field office director for Immigration and Customs Enforcement, said planning for the immigration operation carried out this week began during the Obama administration.
"This operation was in the planning stages before the current administration issued its executive order," Marin told reporters Friday. Trump signed an executive order regarding detention of undocumented immigrants on January 25. Marin said generally it takes weeks of planning before an operation is carried out because the agency needs the time to develop case targets and leads.
Officials are trying to stress that these actions are consistent with regular enforcement.
"We do these operations two to three times a year," Marin said. "This is on par with past operations."
Immigration activists are concerned, however, that these raids may have targeted a wider scope of individuals than had been common in the Obama administration.
Separately, a former Obama administration ICE official said that administration "targeted felons," and noted that under the Trump administration, the enforcement priorities laid out in his interior executive order were much broader and could include a wider range of targets than the Obama administration's enforcement priorities.
The official also questioned the Trump administration including in its general targets individuals with previous deportation orders. These are undocumented immigrants who went through court proceedings before and had a final order of removal, but had not been deported by the previous administration. The Los Angeles ICE office confirmed among its arrests five had no criminal histories but prior orders of removal.