Flynn the fall guy
Herb Boyd | 2/16/2017, 1:03 p.m.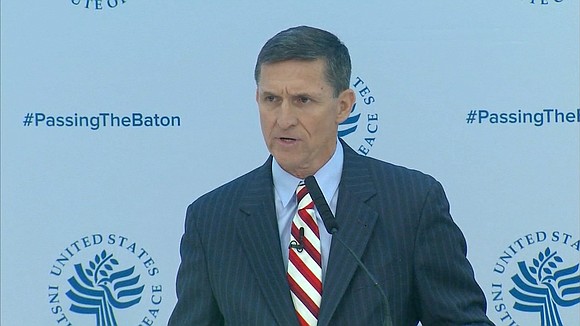 The Trump administration stumbled badly Monday evening when Mike Flynn, the national security adviser, tendered his resignation. Since the reports surfaced of Flynn's conversations with Sergey Kislyak, the Russian ambassador to the U.S., about economic sanctions, which Flynn at first denied, he was on thin ice. It was not a matter of how but when he would have to relinquish his post.
In his letter of resignation, the retired lieutenant general blamed the fast pace of events for his misstep. "I inadvertently briefed the vice president-elect and others with incomplete information regarding my phone calls with the Russian ambassador," he wrote. "I have sincerely apologized to the president and the vice president, and they have accepted my apology."
They not only accepted his apology but also accepted his resignation, unless Trump's press secretary is right that Flynn was forced to resign. Flynn did not disclose the nature of the conversation, which the FBI recorded, much to the chagrin of the House Permanent Select Committee on Intelligence. Without missing a beat or tweet, Trump posted his concern about the issue, noting, "The real story here is why are there so many illegal leaks coming out of Washington?"
A much more real story is to what extent this resignation—and as a developing story we learn that Flynn's letter was not of his own volition—is but the tip of an imbroglio with deeper implications for the White House and other aides. What's to come next after Flynn is docked because of a "trust" factor and not a legal one?

We learn, too, that Trump knew of Flynn's flip-flop on the incident, and it hasn't been determined what other critical information was discussed by Flynn and the ambassador. Was it information that made him vulnerable for blackmail? This point was made by then Acting Attorney General Sally Yates, but rather than deal with this national security risk, Trump fired Yates for failing to carry out his Muslim-banning order.
As the reports come in, this snafu may be merely the beginning of a much larger predicament for the Trump administration, reeling, too, from charges that Kellyanne Conway, the White House counselor, breached a regulation in promoting Ivanka Trump's clothing line.
To plug one hole in the boat, Trump is quickly vetting several men to replace Flynn, who had been by his side from the inception of his presidential bid. No matter who's selected, there remains the stench of mistrust, the stain of incompetence and the general chaos that makes the Trump administration a ship of fools.
Flynn certainly misled Trump and Trump is clearly misleading the public.
Meanwhile, more than a quarter million Americans have signed a petition demanding a thorough investigation and accounting of Flynn's conversation with the Russian ambassador.