Immigrant hysteria, fear, organizing, protection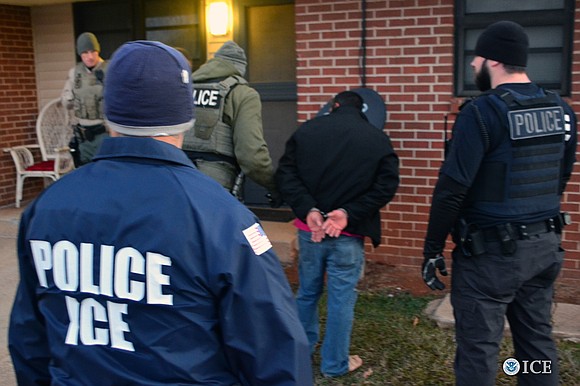 Fear and loathing coat the streets of New York City after President Donald Trump's immigration crackdown, as immigrants dodge U.S. Immigration and Customs Enforcement officials demanding status and detaining people.
Although ICE slammed reports of raids and checkpoints as "false, dangerous and irresponsible," since last week panicked immigrants have been staying home or walking cautiously as rumors spread that ICE officials were stopping people on the streets of Brooklyn (Bushwick, Church/Bedford avenues), in the Bronx and in Queens along the No. 7 subway line—Jackson Heights and Corona.
Several news reports showed immigrants in Woodside, Queens, and City Council Member Jimmy Van Bramer exposing a scam of "fake" ICE officials vamping on Latinos and demanding they pay hundreds of dollars to avoid immediate deportation.
"The recent immigration round up by the government have created a state of panic in the African immigrant community," said community leader Charles Cooper. The Liberian-born recent Harlem City Council candidate told the Amsterdam News. "Several community members have reached out to me in fear that they may be next. When the mayor pushed his IDNYC into our community, we were asked to encourage our community to sign-up, and we were assured that the data would be safe. Today, my community is left in limbo, wondering whether the data collected is being used to track down law-abiding members in our community."
According to a social media campaign Thursday, Feb. 16, has been designated by some activists as "One day without immigrants," under the premise of showing, "Mr. President, without us and our contribution, this country would be paralyzed." The organizers urge immigrants not to go to work, shop, go to school or even by gas. "Let's be prepared," they advise. "We could lose one day at work, but gain a whole lot more. We want to be heard."
In response to the post on Instagram, Sharon Gordon, the popular host of "Reggae Calling" on CPRLive.org. posted the African proverb, "Smooth seas do not make skillful sailors."
But righteous axioms are not soothing the real-life anxiety of millions of New Yorkers, many of whom are real fear of being asked their immigration status as they go about their daily lives. Others fear the real possibility of leaving the house in the early morning to go to a job and not being able return eight or nine hours later.
"These are scary times in America," said Gordon. "The immigrant community is under siege, and many are scared to venture outside of their homes for fear of being caught up in a 'check point' or a raid. Fake news has become the order of the day and so many are not sophisticated enough to ascertain what is fake and what is real."
She continued, "We now have a president and an administration intent on sowing seeds of racial discontent throughout the nation. That has given power to so many racists and bigots to come out of the shadows and be vocal and active with their hatred against anyone who is not white. He has surrounded himself with these bigots like Stephen Miller and Steven Bannon who are known racists and these are people writing policies. These are very scary times in America."