Immigrant hysteria, fear, organizing, protection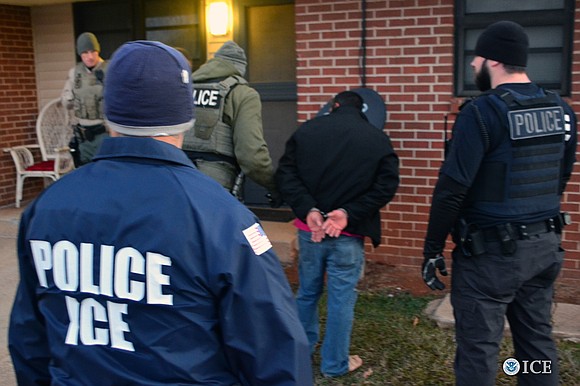 According to the City Planning Commission's 2013 study, almost 40 percent of the city's 8.2 million population was born outside of the country.
Tweeting Sunday, Trump said, "The crackdown on illegal criminals is merely the keeping of my campaign promise. Gang members, drug dealers & others are being removed!
Mayor de Blasio tweeted, "We will continue to stand with the nearly 40 percent of New Yorkers who are foreign born—documented or undocumented."
ICE announced, "A total of 41 foreign nationals were arrested this week in the five boroughs of New York City and the surrounding areas during a targeted enforcement operation conducted by U.S. Immigration and Customs Enforcement aimed at immigration fugitives, re-entrants and at-large criminal aliens. The vast majority—38 of those arrested—had criminal convictions."
DHS Secretary John Kelly said in a statement, "Last week, U.S. Immigration and Customs Enforcement launched a series of targeted enforcement operations across the country. These operations targeted public safety threats, such as convicted criminal aliens and gang members, as well as individuals who have violated our nation's immigration laws, including those who illegally re-entered the country after being removed, and immigration fugitives ordered removed by federal immigration judges. ICE officers in the Los Angeles, Chicago, Atlanta, San Antonio and New York City areas of responsibility arrested more than 680 individuals who pose a threat to public safety, border security or the integrity of our nation's immigration system. Of those arrested, approximately 75 percent were criminal aliens, convicted of crimes, including, but not limited to, homicide, aggravated sexual abuse, sexual assault of a minor, lewd and lascivious acts with a child, indecent liberties with a minor, drug trafficking, battery, assault, DUI and weapons charges. ICE conducts these kind of targeted enforcement operations regularly and has for many years. The focus of these enforcement operations is consistent with the routine, targeted arrests carried out by ICE's Fugitive Operations teams on a daily basis."
"The Mayor's office has received credible reports of immigration enforcement activity in several New York City neighborhoods," said Rosemary Boeglin, Mayor Bill de Blasio's deputy press secretary. "The Mayor is closely monitoring the situation and the administration is working with NYPD and community organizations to verify activity as we receive reports. We will continue to stand with the nearly 40 percent of New Yorkers who are foreign born—documented or undocumented—and we will use all of the tools at our disposal to protect them from any federal overreach. New Yorkers should rest assured that city officials, including the NYPD, will never ask about your immigration status and the NYPD will never become immigration enforcement agents."
At the Dean Street, Brooklyn office of the Nigerian American Muslim Integrated Community State Senator Jesse Hamilton and a coalition of immigrant support groups and allies held a news conference to announced that his office will be a Sanctuary Senate District. Hamilton's office said that in light of Trump's executive order "putting in jeopardy the rights of our immigrant population in New York and their families who have lawfully obtained permission to come to this country to live, work or visit," Hamilton "has declared his office to be a Sanctuary Senate District for the term of President Trump's executive order."