Immigrants under siege in New York
Janet Howard | 2/16/2017, 11:46 a.m.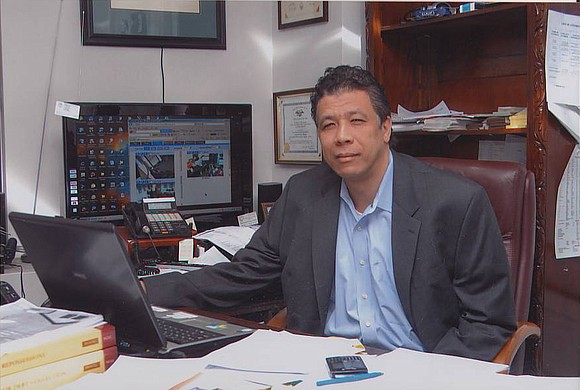 President Donald Trump's attack on immigrants has arrived in New York. Trump has vowed to deport at least 3 million undocumented people who, he says, have criminal backgrounds. Fact checkers have found that the number Trump cites for undocumented immigrants with criminal backgrounds is inflated. Immigration authorities have already arrested hundreds of undocumented immigrants in at least six states in raids, pursuant to an executive order Trump signed in January. That EO expanded the category of immigrants lacking proper paperwork that federal authorities would target for arrest and expulsion. Rather than focusing, as President Barack Obama did, on individuals with violent criminal convictions, Immigration and Customs Enforcement now has a mandate to nab undocumented immigrants if they have ever been accused of any crime, even "where such charge has not been resolved."
Immigration advocates say 40 people in and around the city have been arrested by federal authorities as part of a nationwide crackdown on immigrant communities. ICE confirmed the number of arrests to the press. Raids were conducted in five states as well, including California, where approximately 150 immigrants were seized.
On Church and Flatbush avenues in Brooklyn, there are confirmed reports of immigration agents on the prowl. Also, there are confirmed reports of ramped up enforcement raids on Staten Island.
Rosemary Boeglin, a mayoral spokeswoman, said that the city will continue to support the nearly 40 percent of New Yorkers who are foreign-born—both documented and undocumented. Roughly half a million residents of the five boroughs are believed to be undocumented. The mayor's office says it has received reports about immigration enforcement activity in the city, and that it is closely monitoring the situation. The mayor says city officials and the NYPD will not act as immigration agents and will never ask New Yorkers about their immigration status. But what about the ICE agents descending on New York and creating havoc, despair and fear, Mr. Mayor?

In the wake of increased immigration enforcement, advocates say many of the city's immigrants are afraid of being detained. Immigrant advocacy organizations have been flooded with calls from immigrants who are fearful, nervous and freaking out. Many people are worried they'll be deported because they're here illegally. Some have enjoyed protection under Obama's Deferred Action for Childhood Arrivals program; others are in the process of trying to obtain documentation, pro-immigrant organizers say.
Brian Figeroux, Esq., senior partner of the law firm of Figeroux & Associates, stated, "These are difficult and nervous times. We understand the nervousness and fear; it is real. We have been fighting for immigrants since 1996 and will continue to do so."
Figeroux advises, "One of the most important things to know is that, this is America and everyone has rights. So it's critical, if you are detained by federal agents to demand a lawyer. It is your right. The lawyer you hire does make a difference. The ability to have a lawyer—quality legal representation, such as a lawyer who is a member of the American Immigration Lawyers Association [AILA]—makes a huge difference in the outcome in your case. Do not open your door for ICE agents unless they slip you a warrant under the door. ICE agents are not your friends. With the new administration, they are now empowered even more. There are ways to protect yourself and your family. For example, being a U.S. citizen protects you and your family from deportation; children 17 years and under derive citizenship from just one parent being a U.S. citizen. We have been offering free citizenship assistance every week for over 10 years. If you have been a Green Card holder for five years or married to a U.S. citizen for three, apply for American citizenship. For those who are undocumented, there are other legal options to legalization in lieu of Comprehensive Immigration Reform. You have to explain your case to an attorney. We offer free legal consultations every week through our radio program on WVIP 93.5FM on Thursdays [10 p.m. to 11 p.m.] and Sundays [11 p.m. to midnight]. Also, we have free immigration meetings the last Thursday at 6 p.m. and first Saturday at noon of every month at 26 Court St., Suite 701. Now more than ever, is the time to fight back; know your rights, defend them and take action."