Talking SCHOP! Dim sum with the sum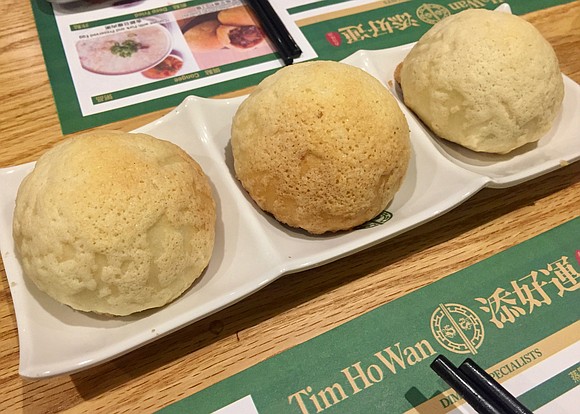 She returned to the city she loves and the people who inhabit it. I am talking about my bestie, Raquel. A two-week reprieve from the naturally gorgeous Evergreen City, also known as Seattle, was right on time for a reunited Fab 5 dinner. We would make
the most of the time we had.
Separately, Raquel and I enjoyed one of our requisite "3M" NYC days. That is movie, meandering, meal. Our meal ended up being at one of our favorite ramen spots in Brooklyn, Chuko. We treated the Asian meal as an appetizer for our dinner with the rest of the crew later in the week at the newly opened world-famous authentic Hong Kong dim sum restaurant, Tim Ho Wan (@TimHoWanUSA, 85 4th Ave., 212-228-2800, www.timhowanusa.com).
We converged on the small but packed corner location for a familiar family experience. Normally dim sum is a weekend trek to Chinatown and staying on high alert for your favorite dish passing on pushcarts. There are no pushcarts at Tim Ho Wan, only an attentive and quick staff at the ready to get you what you need. And if you don't have time to sit, there is a standing bar where you can down a couple of siu
mai or pork buns on the fly.
We went in on the food starting with the steamed section: pork dumplings with shrimp (siu mai), shrimp dumplings (har gow), shrimp and chive dumplings, rice rolls with shrimp and Chinese chives and another with barbecue pork, and I had to try beef ball with bean curd skin. We also got our favorites, pork spareribs with black bean sauce and sticky rice in lotus leaf with bits of Chinese sausage and meat. Nom!
Tim Ho Wan's signature pork buns were essential eating, with their sweet filling and unique crispy coating gently touched with cinnamon sugar. And from the fried sections, we had turnip cake, pork and shrimp dumplings and vegetable spring rolls (lo han jai).
One of my favorite discoveries at Tim Ho Wan was their steamed rice bowls topped with different proteins. While we enjoyed our pork and dried squid rice bowl, our neighboring diners raved about the chicken and shitake mushroom. I will return to try that and their congee with
pork and preserved egg.
We sampled all of the desserts at Tim Ho Wan and the clear winners were French toast with custard Tim Ho Wan style and sweet pumpkin cream with sago served cold. Although a little on the too sweet side of the matter, these two will treat you right at the end of a delicious meal.
I am holding this memory in my heart friends—
until next time.
Happy eating and thanks for reading!
Kysha Harris is a food writer and editor, culinary producer, consultant and owner of SCHOP!, a personalized food service in NYC for more than 15 years. Follow her on Twitter and Instagram, @SCHOPgirl, on Facebook, /SCHOPnyc and her blog, www.talkingSCHOP.wordpress.com. Questions? Comments? Requests? Feedback?  Invitations!  Email AmNewsFOOD at AmNewsFOOD@SCHOPnyc.com. Follow us on Instagram, Twitter and Facebook @NYAmNewsFOOD and tag us with #SoAmNewsFOOD
with your food finds!