Valentine's Day Heart in Times Square Celebrates Immigrants
Sha-Nia Alston | 2/16/2017, 11:40 a.m.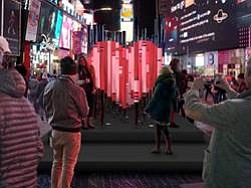 In recent events, a federal judge blocked President Donald Trump's so-called Muslim travel ban. With all the current turmoil surrounding immigration, The Office for Creative Research did something a little different for Valentine's Day.
Rather than create a traditional Valentine's Day heart, they created a heart named "We Were Strangers Once Too," a heart celebrating the heart of New York, the immigrant population.
New York City has the largest immigrant population of any major city, according to the office of the New York State Comptroller Thomas Di Napoli.
The heart itself is made of 33 poles, each with a band of color. Each band of color represents a country's immigrant population in New York between 2010 and 2015.
With the recent election on their minds, Jer Thorp, an immigrant from Canada, and his team at The Office for Creative Research chose to focus on immigration to celebrate immigrants from a positive viewpoint.
"We decided we really wanted to talk about immigration because we as a studio really disagree with some of the rhetoric and the framing against immigration, and we wanted to have a different voice. This city is built on immigrants, and it wouldn't exist without them," Thorp said.
For the past nine years, Times Square Alliance has invited architecture and design firms to create public art that celebrates Valentine's Day.
Tim Tompkins, the president of Times Square Alliance, sees "We Were Strangers Once Too" as an opportunity to spark conversations among different groups of people.
"One of the great things about Times Square is you have red states and blue states mixing together; maybe some people will sit here, look at this sculpture and start having conversations they might not have had otherwise about these issues," he said.
"We Were Strangers Once Too" is located in Duffy Square (Broadway and 46th Street), and it is free to see until March 5, 2017. Visitors are welcomed to start their own conversations on Twitter and Instagram using the hashtag #oncestrangersTSq.