The versatile vocalist Al Jarreau dies at 76
Ron Scott | 2/16/2017, 12:03 p.m.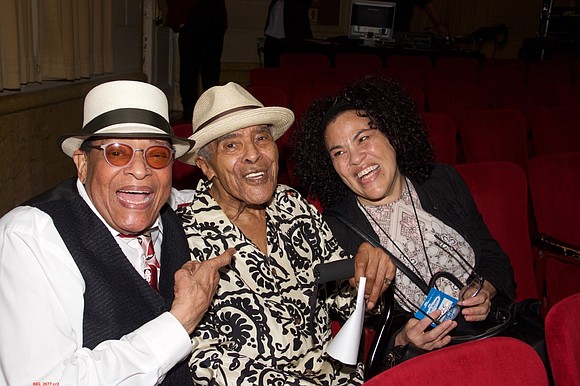 Al Jarreau, the only vocalist to win Grammys in pop, R&B and jazz through his deep sea of versatility, died Feb. 12 in Los Angeles. He was 76.
His death was announced by his manager, Joe Gordon. Earlier last week Jarreau had been hospitalized in Los Angeles "due to exhaustion." Following the advice of his doctors, the singer announced his retirement from touring.
Jarreau was a vocal stylist whose voice was so flexible he played it like an instrument, from the improvisations of a saxophone to trumpet and flute. His scatting style earned him the nickname the "Acrobat of Scat." He bent notes and improvised like a jazz musician.
Scatting was just a small part of his musical arsenal. His seven Grammy Awards over the years demonstrated his unique adaptability to his eclectic stylings.
Jarreau won his first Grammy in 1978 for Best Jazz Vocal Performance, for his double live album "Look to the Rainbow." His sizzling interpretation of Paul Desmond's "Take Five," the title song from Dave Brubeck's popular album, is an intense roller-coaster ride up and down the musical scale as Jarreau effortlessly emulates three or four different instruments over the course of seven and a half minutes.
The following year he also won in the jazz category for his album "All Fly Home." In 1981, he won in the category of Best Recording or Children with "In Harmony: A Sesame Street Record," a compilation album that featured a variety of artists.
In 1982, he earned a Grammy for Best Pop Vocal Performance by a Male Artist for the title track of his album "Breakin' Away." That year, he also received the Grammy for Best Jazz Vocal Performance by a Male Artist for his version of Dave Brubeck's "Blue Rondo à la Turk," from the same album.
His last Grammy was awarded in 2007, for Best Traditional R&B Vocal Performance. The award was shared by Jarreau, George Benson and Jill Scott for their collaborative performance "God Bless the Child."
The 1985 television series "Moonlighting" gained an extra boost with the theme song written and sung by Jarreau. It became one of his best recordings.
His 1981 hit song "We're in This Love Together," which reached #15 on the Billboard pop singles chart, helped catapult him to pop-star status.
Appearances on "Saturday Night Live" (the show's debut year) and other television shows heightened his visibility and exposed his undeniable talent. Although he has been credited with bridging the gap between jazz, pop and R&B, blues was another aspect of his repertoire.
He reached a national audience with the album "We Got By," released by Warner Bros. in 1975 (as his debut) to critical praise and commercial success. The title cut is nothing but the blues, along with tunes such as "Susan's Song" and "Lock All the Gates" that are just as potent. The bluesy soul of this album elicited comparisons to singer Bill Withers.
This album was actually his second, although it was advertised as his debut. Some years earlier Jarreau had recorded an album released on the Bainbridge label under the title "1965." He took legal action, but the album was released in 1982 to good reviews.