B Michael's fall '17 ready-to-wear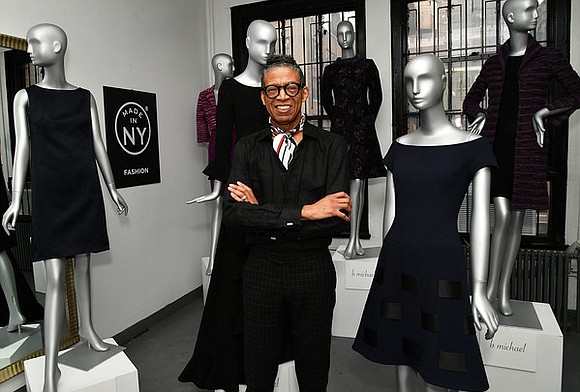 After viewing the big New York Fashion Week shows all over town, it was nice to visit B Michael's atelier in Manhattan's Garment District Sunday, Feb. 13, for a more private showing. An acclaimed couture designer, Michael unveiled his first independent ready-to-wear brand entitled "B Michael Collection." The designer, a very gracious host, welcomed some of his finest clients and friends. Guests included Vanity Fair special correspondent Amy Fine Collins; Congresswoman Carolyn Maloney; philanthropist, author and socialite Jean Shafiroff; Emmy Award-nominated journalist Ayanna Harry; WPIX11 TV anchor Brenda Blackmon; fashion stylist Freddie Leiba; actress, director and producer Tamara Tunie; Beacon editor Audrey Bernard; Deborah M. Chase; Flo Anthony with the New York Amsterdam News; and actress and philanthropist Cicely Tyson.
This new B Michael collection comes as an evolution of the designer's sophisticated evening and couture collections. Utilizing a hands-on approach, his clean American style is created with unique fabrics. It's developed and transferred from the runway to a more attainable lifestyle collection. For existing clients and a new generation, the looks are essential for a luxe wardrobe. However, the looks are very modern,
"I realized I had an opportunity and almost responsibility to dress the women who have been asking me to design a ready-to-wear collection for years," said Michael about his aha! moment. "I feel very creatively stimulated," he continued. "Ready-to-wear is the next challenge and what I feel I have been yearning to create for some time. It's as though I've hit the re-set button on my creative process and brand."
Michael's approach to this fresh look and new concept comes in the form of what he refers to as "B's basics." The collection consists of a comprehensive line of dresses, topper coats, trousers, skirts and tops. His pieces add texture and sophistication to a woman's lifestyle. These basics will help to build your wardrobe with classic closet essentials.
Michael's navy shift dresses that are available in a variety of cuts and fabrics are must-haves. Let's not forget his straight cut. It's a sleeveless, sculptured silk gabardine sheath. There's an A-line look with cap sleeve in double-faced wool crepe with silk mikado accents. It's elegant and can be worn from the office to after work events. His slimming flat front trousers are given the B. Michael touch with dramatic open front kick pleats. For day, handmade knits are woven with different types of mohair yarn. These knits are easy to transform into evening styles, especially when they are cut for a formfitting seamless tank dress. A-line cuts are a common theme with several dresses.
Topper coats with Michael's signature covered buttons create a polished finish. Boat and scoop necklines project a more regal look. Buttery leather is the fabric of choice for tanks and accents throughout the collection. Michael's fine leather black capelet over a long gray patterned gown was opulent. Other details included leather trims on pockets, grosgrain ribbon trims on a black and white long jacket. This smartly styled jacket pairs nicely over one's own denim or over dresses from the collection. Common neutrals are black, white and navy, with shades of berries to compliment, if a
bolder color is preferred.
With his new collection at the forefront, Michael will continue his partnership with Made in NYC™, a nonprofit that encourages film, TV, tech and fashion companies to create their projects in New York City. "We should all evolve as artists and always seek to explore the next chapter," said Michael. "It feels, to me, to be an authentic time, and I find I have a newly charged passion for what's to come."
The collection will be available in select retailers nationwide in the fall of 2017.