Chickpea vegetable stew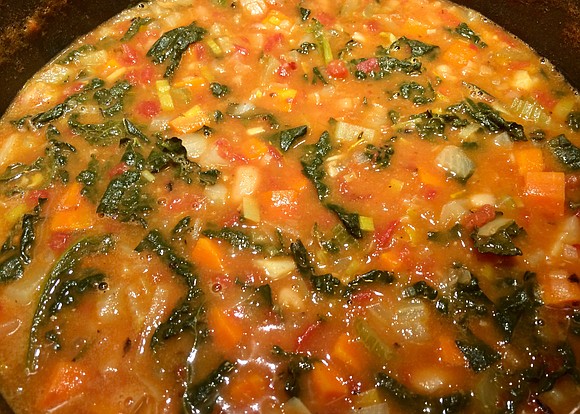 I have been putting my slow cooker to work this winter to great results. One of my favorite dishes to make is stew. With or without meat, stews prove to be a plentiful, warm, satisfying staple whose frozen leftovers are a boon when cooking is not an option.
Still working through purging my pantry, I was inspired by a bag of dried chickpeas (soaked overnight in place of canned chickpeas), a can of coconut milk and, of course, shelves of overflowing spices. Although my result was a little more eclectic than the following recipe, I will try this one soon.
1 Large onion, chopped
4 Garlic cloves, smashed
1 Tablespoon fresh grated ginger
1 Teaspoon olive oil
1 13-Ounce can unsweetened coconut milk
2 Teaspoons garam masala
2 Teaspoons ground turmeric
1 Teaspoon ground cumin
1 Tablespoon honey
1/4 Teaspoon crushed red pepper (more to taste)
2 14-Ounce cans chickpeas, drained
3 Cups sweet potatoes, peeled and chopped
Add the oil to a skillet and place over medium heat. Sautee the onions, garlic and ginger until soft, 3 to 5 minutes, then remove from heat. Place the onion mixture in the blender, along with the coconut milk, all spices, honey and 1 teaspoon salt. Cover and puree until smooth.
Pour the curry blend into the slow cooker then add the chickpeas and chopped sweet potato. Mix well. Place the lid on the slow cooker, and turn on high for 4 to 5 hours or low for 6 to 8 hours. Once the sweet potatoes are soft, serve warm over basmati rice or with Indian style flatbread.
Happy eating and thanks for reading!