Lincoln and Wings earn top spots in boys AA playoffs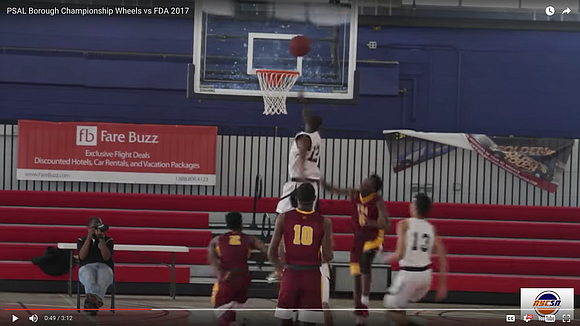 Abraham Lincoln High School of Coney Island and Wings Academy of the South Bronx will head into the 2016-2017 Public School Athletic League playoffs as the top two seeds after their victories in the borough championships this past Saturday at Queens College. 
Lincoln, 25-3, who was awarded the No.1 seed Sunday evening, comfortably turned back South Shore 74-46 behind Micheal Reid's 20 points to capture the Brooklyn title. They will enter the tournament in a familiar spot as the favorite to win the city championship. The Railsplitters are seeking their ninth city title under head coach Dwayne "Tiny" Morton, who returned to the school two seasons ago after a brief stint as a college assistant at Seton Hall.
Wings, 22-3, the 2015 PSAL AA champion, are endeavoring to seize their second city title after winning a fifth consecutive Bronx Borough Championship—and ninth in the last 11 years—by defeating archrival Eagle Academy 59-56. It was Wings' third close win over Eagle this season, as their average margin of victory in the three contests was five points. 
Head coach Billy Turnage and his No. 2 seeded squad are led by 6-foot-5 senior Jose Perez, who netted 20 points against Eagle in the decisive borough match up. Both Lincoln and Wings have earned first round byes when the playoffs commence next week. Although the duo has proved to be the two best teams during the regular the season, they are not upset-proof in what is a wide-open field.
John Bowne hopes to be one of the dragon slayers after their 66-63 win versus the Queens High School of Teaching in the Queens Borough Championship. The 21-6 Wildcats garnered the No. 3 seed and a bye to begin their title quest. Frederick Douglass Academy (15-8), representing the Class A division, handled Washington Heights Expeditionary Learning School, also known as W.H.E.E.L.S (15-9), by 63-52 to win the Manhattan Borough Championship.
Staten Island, which doesn't hold a borough championship, will nonetheless send its AA division champion Curtis into the playoffs as the No. 5 seed, one spot below fourth-seeded Queens High School of Teaching. W.H.E.E.L.S. (No. 6), South Shore (No. 7), Springfield Gardens (No. 8), Eagle Academy (No. 9) and the High School for Construction (No. 10) round out the top 10 in the Class AA division. 
In the Class B division, South Bronx Prep and Fannie Lou Hamer are seeded one and two, respectively. The Class A playoffs will open with the Brooklyn High School for Law and Technology in the No. 1 spot, with Eagle Academy II positioned as the No. 2 seed.