PBS previews Maya Angelou documentary at Schomburg with Clintons as special guests
Nadine Matthews | 2/23/2017, 11:08 a.m.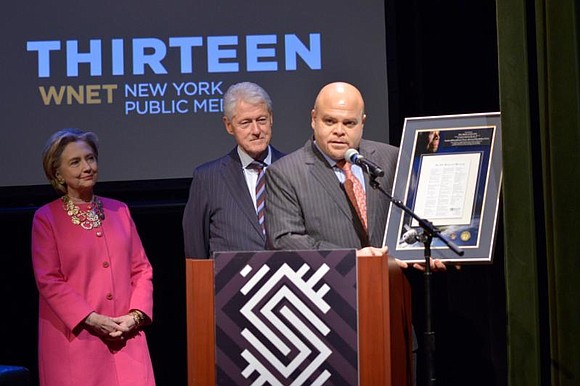 "A Rock, A River, A Tree…," the first words of the poem "On the Pulse of Morning", were written by actress, dancer, author, professor, activist and poet Maya Angelou. Angelou, who died in 2014, delivered them in front of a crowd of more than three quarters of a million people in Washington, D.C., on a sunny 40-degree day in mid-January 1993. The occasion was the first inauguration of President Bill Clinton. Angelou was only the second person to write and recite an inaugural poem and was the first African-American and first woman to do so. Robert Frost was the first inaugural poet, writing "The Gift Outright" in 1961 for John F. Kennedy. Angelou's poem stressed in part the nation's diversity as a bedrock of its identity and its surviving and moving forward from a painful past.
On Feb. 16, Bill and Hillary Clinton came to the New York Public Library's Schomburg Center to accept a plaque from Colin Johnson, Angelou's grandson and co-founder of Caged Bird Legacy LLC. The plaque bore the text of the inaugural poem and flew on the Orion Exploration Flight Test-1, Dec. 5, 2014. Clinton accepted the plaque and shared memories of his fellow Arkansan, saying among other things, "Maya lived enough lives for five people. She was a gift to all of us who knew her with a friendship more precious than any medal or jewel and she was a true friend to Hillary in sunshine and storm in ways large and small, public and intensely private."
Hillary Clinton followed Bill. She recounted the chain of events leading to their decision to ask Angelou to be their inaugural poet. "Both Bill and I had been admirers of her work and what we knew of her life," she said. "I had followed her career. She was a phenomenal woman in every way, and it seemed so perfect that someone who had spent those years in Stamps, Ark., would be on the platform with the new, then young, president on the platform."
The evening was also a celebration of the new PBS American Masters documentary, "And Still I Rise." Kevin Young, director of the Schomburg, explained, "We partner with [PBS] a lot so this is just a continuation of our partnering with them. We've been presenting American Masters programs relevant to the community."
There was an extended preview screening of the documentary, followed by an approximately hour-long Q&A panel moderated by Young. Panelists were Rita Coburn-Whack, co-producer of the documentary; Elizabeth Alexander, Barack Obama's inaugural poet; Lou Gossett Jr., actor and friend of Angelou's; and Colin Johnson. Panelists and attendees mingled during a cocktail reception after the screening. Gossett, who appears in the documentary and was a lifelong friend of Angelou's, made himself available to press before the start of the evening's events. He first met Angelou working in the play "The Blacks" and recalls that she was the person who took him under her wing and made him more aware and proud of the African origins of his identity. He remembers that was what impressed him most. "She stuck out like a sore thumb," he said. "I was a young kid. She stood up for things and went nose to nose with who were quite important and she believed so deeply. I wanted to be like that."