Trump tamps down on illegal immigrants
Herb Boyd | 2/23/2017, 10:16 a.m.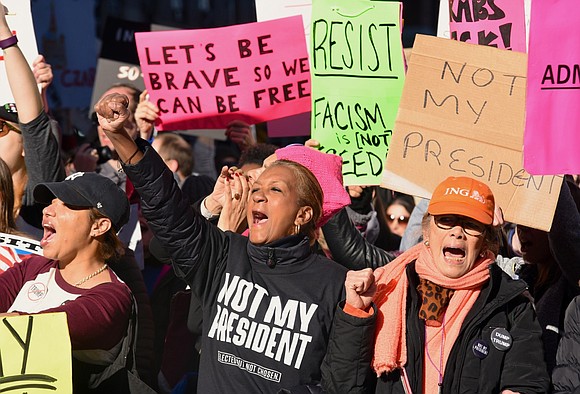 If for a moment you thought President Trump had softened his approach to illegal immigration, then you and millions of undocumented immigrants are in for a rude awakening. In fact, in several ways, his policy has hardened.
Unlike the Obama administration, which exempted classes or categories of removable aliens from enforcement procedures, Trump's new policy allows immigration agents to deport anyone charged with or convicted of any criminal offense, including minor ones.
The action has sent a chill across the nation, with many undocumented immigrants who have been in the country for years now trembling in fear of deportation as they await a decision about their status.
On the other hand, law enforcement officials, especially Immigration and Customs Enforcement agents will feel less constrained as to whom to pursue and detain.
When Obama was in the White House, people caught crossing the border without permission were often released into the U.S. and often had to wait years for a decision on their request for asylum. Even then, there was no guarantee of asylum, although by then the person could disappear and be hard to find.
This "catch and release" process no longer exists under Trump's new policy. What appears to be in the works for those waiting will be expanded detention centers, but such facilities could take years to complete. An alternative plan is to send the immigrant to Mexico, even if he or she is not from there, which is permissible by U.S. law but not in Mexico if the person is not a Mexican citizen.
There is also the issue of "expedited removal," which the administration Trump plans to apply much more extensively than in the past. Past policy allowed the detainee to appeal to a judge. Such a process, Trump's provision implies, creates a backlog of court cases. Now, someone who has been living in the U.S. on a court case can be detained and deported without appearing before a judge.
Although children entering the U.S. are given protections under the new policy, no such leniency is given their parents who face deportation and possibly prosecution for enabling their children to enter the country. The prosecution extends to those parents who pay smugglers to get their children into the country.
Obviously, this new policy will compel the undocumented immigrants to burrow even deeper to avoid arrest and deportation.
Thus far, "Dreamers," the thousands brought into the country as children and protected by the Obama administration's Deferred Action for Childhood Arrivals order, have been spared the new policy's reach, although that doesn't mean that many should relax and feel secure.
Under Trump's new provisions, the law enforcement agencies will be beefed up with additional deputizing, and the number of sanctuaries for undocumented immigrants will be reduced.
Mayor de Blasio has vowed not to allow law enforcement officers to help round up undocumented immigrants. "What we will not do is turn our NYPD officers into immigration agents," he said.
Trump's new policies are mainly put into effect to fulfill his campaign promise to deport illegal immigrants, who he said were "criminal aliens" who "routinely victimize Americans." Like much of Trump's tweets and actions, there is no research to back these assertions. And according to some research reports, the immigrants actually have lower levels of crime than native-born Americans.
Of course, such findings mean little to an administration with a reckless disregard for illegal immigrants and for an increasing number of legal residents.