US public schools take steps to protect undocumented students
Ray Sanchez, CNN | 2/23/2017, 5:11 p.m.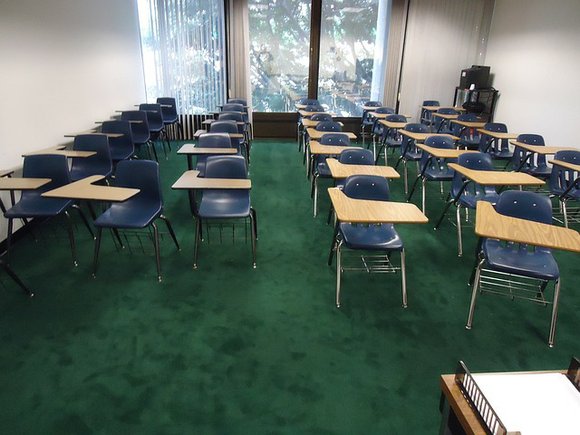 (CNN) -- Chicago Public Schools say they will deny federal immigration agents access to district buildings and personnel unless served with a criminal warrant, the latest in a series of steps taken by US school officials to protect undocumented students.
School districts from Pennsylvania to California have stepped up efforts to allay fear and uncertainty in immigrant communities over Trump administration directives that would significantly expand the power of immigration officers and could set the stage for mass detentions and deportations.
After a December resolution affirming its commitment to a "safe and welcoming" teaching environment for all students, Chicago Public Schools this week sent a memo to principals who "expressed concern and anxiety" about immigration issues and guidance on handling interactions with US Immigration and Customs Enforcement.
"To be very clear, CPS does not provide assistance to US Immigration and Customs Enforcement (ICE) in the enforcement of federal civil immigration law," Tuesday's memo said.
"Therefore, ICE should not be permitted access to CPS facilities or personnel except in the rare instance in which we are provided with a criminal warrant."
Nearly 700 immigrants arrested nationwide
Some students welcomed the news.
"There was a lot of panic going around," Yuliana Rodriguez, who attends Hubbard High School in Chicago, told CNN affiliate WLS.
She added, "I feel like school should be a safe place, just like home. We go there to learn. I feel like it shouldn't be a scary place to go to."
The guidance to principals in the nation's third largest school district came Tuesday, as Department of Homeland Security officials laid out plans to expand state and local law enforcement's ability to act as immigration officers.
"Protecting the safety and privacy of our students is our top priority at Chicago Public Schools," the guidance to schools said. "Given the recent political climate and events which have occurred on a national stage, some of our students and families have expressed concerns about how our schools may interact with the United States Immigration and Customs Enforcement."
The DHS memos -- which follow the arrests of nearly 700 immigrants nationwide this month -- seek to explain how the agency intends to carry out some of Trump's executive orders. Those orders call for a vast increase in the resources provided to ICE and Customs and Border Protection, the construction of a wall along the southern border and an aggressive stance toward undocumented immigrants.
Chicago Chief Education Officer Janice Jackson's package to principals included multilingual information and palm cards on immigration law and rights for students and their families, as well as guidelines for school personnel.
"While many of our families have serious concerns and anxiety about recent federal actions and statements, we want to make sure that parents know school is a safe place for all students regardless of their race, ethnicity or country of origin," Jackson wrote to principals.
'ICE agents should wait outside'
Jackson noted that attendance in some schools was lower than usual during the last week's "Day Without Immigrants" events. "We firmly believe that the safest and most beneficial place for students is a classroom alongside their fellow students," she wrote.