African-American gun club says membership surged in Trump era
Ryan Young, CNN | 2/27/2017, 1:47 p.m.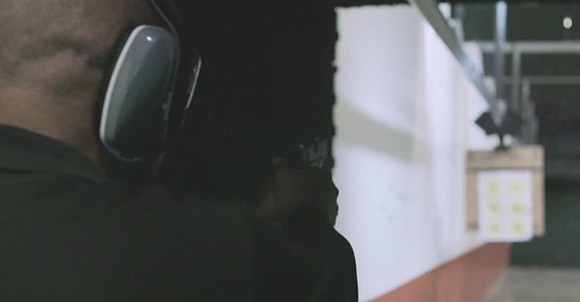 (CNN) -- More African-Americans appear to be taking an active interest in their right to bear arms since the election of President Donald Trump, gun club leaders and firearm sellers say.
A national African-American gun club has doubled its membership since Election Day, and gun sellers say they've noticed more black customers buying firearms.
At Stoddard's Range and Guns in Atlanta, one thunderous clap after another reverberates through the room, mixing with laughter and the smell of gunpowder. A group of men are bonding over a hobby they love. Moments later, with their clips empty and a stream of hot shell casings on the floor around them, each man holds up his target showing clusters of bullet holes.
They are members of the National African American Gun Association, a group that has added 9,000 members since Election Day, said Philip Smith, the group's national president. The group launched on Feb. 28, 2015, and added 4,285 members over the same time period the year before, between Nov. 2015 and Feb. 2016.
"I'd be lying to you if I said Donald Trump hasn't affected our numbers," Smith said. "They have jumped off the roof."
NAAGA now has more than 18,000 members in 24 chapters across the country.
'You know what, let me get a gun just in case'
In 2008, overall gun sales surged after President Obama's election. Weapons dealers attributed the increased sales to fears that Obama and a Democratic-controlled Congress would move to restrict gun ownership. In contrast, overall sales of guns and ammo dipped immediately following Trump's election.
NAAGA leaders say that the recent increase in their membership is driven by different concerns. One of the group's newest chapters formed in response to the election result, launching just weeks after Nov. 9, and now counting 66 members.
Dickson Amoah, the chapter's president, said several members were alarmed by attacks on African-Americans at Trump's campaign rallies and hateful rhetoric from Trump supporters on social media. That motivated them to organize the new chapter, he said.
Smith cited the recent rise in the number of hate groups in the United States as one factor in NAAGA's growth. "I think the main thing that has really changed is that two years ago, fringe groups were just that: fringe groups," he said. "But now those fringe groups are kind of like, 'It's cool to be racist,' and they've taken that and we -- our community sees that, and it scares us. You know what, let me get a gun just in case something happens, just to make sure."
A more diverse clientele
Several gun store owners also said they have noticed a shift in their clientele.
Junior Joseph, the owner of a gun shop near a black community in Orlando, Florida, said for years most of his customers were white men. But since the election, he said he has been making more sales to black and Latino shoppers. Kevin Jones, a gun dealer in Ohio, said he had also seen more black customers coming in, particularly older women.