2016: The year in review in Black theater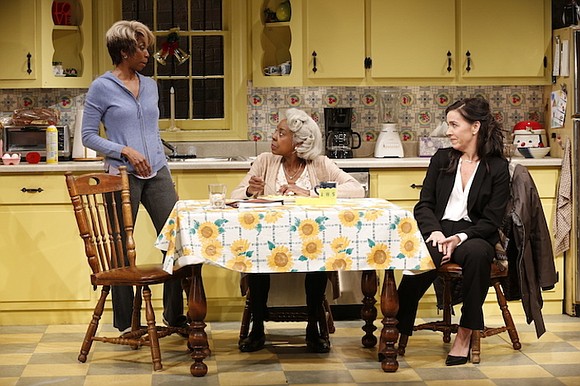 The year 2016 was full of brilliance for Blacks in theater. The year began with the phenomenal work of Lydia R. Diamond, "Smart People," which was presented by Second Stage Theater and starred African-Americans Mahershala Ali and Tessa Thompson, along with Joshua Jackson and Anne Son. This production also featured fantastic direction by Kenny Leon. Maurice Hines came on the scene at New World Stages with a production that told the story of his life and his late brother Gregory Hines. The production, "Tappin' Thru Life," was wonderful and uplifting to watch. This view was obviously shared by many as it received a thumbs-up from AUDELCO voters, winning four VIV Awards for Musical Production of the Year, Outstanding Performance in a Musical Male—Maurice Hines, Choreography—Hines and Director/Musical Production—Jeff Calhoun.
Black Spectrum Theater in Queens delivered a production that made you ask, "Is this life all there is?" With founder, executive producer and playwright Carl Clay's staging of "Timeless, the Mystery of the Dark Water," the audience had to seriously considered the validity of reincarnation. Colman Domingo penned a moving, powerful play called "Dot," which looked at the painful issue of Alzheimer's disease. Domingo let the audience see how this illness affects victims and their loved ones. This subject was painful to approach, but the cast delivered a very thoughtful and skillful performance. The cast included Marjorie Johnson as Dot, a role that won her a VIV Award for Lead Actress at this year's AUDELCO Awards. Other cast members included Sharon Washington, Stephen Conrad Moore, Libya V. Pugh and Colin Hanlon.
The Public Theater brought Phylicia Rashad back to the stage as she starred in "Head of Passes," by Tarell Alvin McCraney. This story was a take on the biblical story of Job. Rashad gave a moving performance as the matriarch of a family that was destroyed in so many ways, but kept her faith. This play also featured performances by an extraordinarily talented cast that included Francois Battiste, J. Bernard Calloway, Alana Arenas, Arnetia Walker, John Earl Jelks and Kyle Beltran. All their skills were beautifully and touchingly brought together by director Tina Landau.
Although the run was too brief for my taste, "Eclipsed" began at The Public Theater and moved to a Broadway home at the Golden Theatre. The play by Danai Gurira maintained its stupendous script, which showed the strength, sexual abuse and suffering of four women in war-torn Liberia. When I saw it at The Public, one of the impressive factors to the show was its riveting cast, and it was this same cast that moved with the show to Broadway. It featured Lupita Nyong'o, Saycon Sengbloh, Pascale Armand and Akosua Busia, along with spot-on direction by Liesl Tommy. Drama Desk recognized the genius of Gurira as it presented her with the Sam Norkin Award for this play and another production of hers that was also performed this year called "Familiar." Sengbloh came away with the Drama Desk Award for
Featured Actress in a Play.
Lincoln Center Theater's Mitzi E. Newhouse Theater presented "The Royale," focusing on the racism experienced by the first African-American heavyweight boxing champion, Jack Johnson. The play was written by Marco Ramirez and directed by Rachel Chavkin. The cast featured Montego Glover, Khris Davis, Mckinley Belcher III, John Lavelle and Clarke Peters and was the recipient of a special Drama Desk Award for Outstanding Ensemble.