Brickell, the 'grown-up' alternative to South Beach, Miami
Megan Pinckney | 1/5/2017, 11:03 a.m.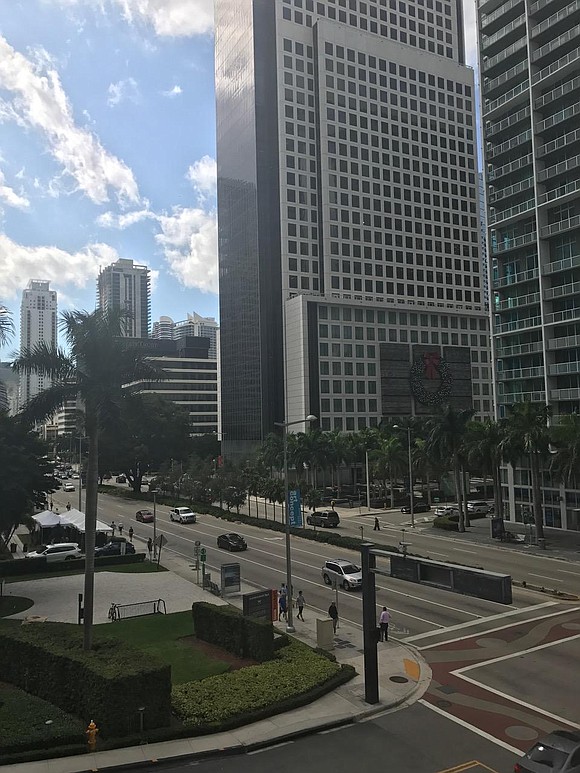 Chances are, when you think about vacationing in Miami you're probably actually thinking of vacationing on South Beach, but for a good reason. There is never a shortage of bikinis, cocktails or parties (day or night) on South Beach. There have been songs written about the sexy, laid-back atmosphere and movies made to pay homage to its culture and lifestyle. But to be completely honest, that frenzy can be a bit overwhelming. Not every night can be a bachelorette party night, and not every week can be spring break. So instead of heading straight to the beach, the next time you land in Miami, spend a little time in Brickell, the redeveloped Miami neighborhood where young professionals are choosing to live, work and play (really, really hard).
Located directly south of downtown and just north of Coconut Grove, sits Brickell, Miami's—actually, all South Florida's— major financial district. It is the home of 53 banks and most of Florida's foreign consulates. In fact, Brickell is the reason Miami is one of the nation's leading financial centers, second only to New York City in the largest concentration of foreign banks.
But don't let the idea of a stuffy Wall Street cloud your judgment. Brickell still upholds the citywide easygoing lifestyle, typical in most Florida cities, partly because the neighborhood is filled with mostly young professionals, the average resident being between the ages of 25 and 44, who are former South Beach partygoers.
The influx of young people came after the colossal financial crash in 2008, which destabilized markets throughout the country, but especially Miami's condo market. By 2009 hardly anyone occupied any of Brickell's condos, which forced the bars and restaurants to close or relocate. By 2010, many young people had begun to rediscover the neighborhood and its condos because of the breathtaking views of the bay and competitive pricing. The crash allowed young people, who before could have never afforded to live in a downtown high-rise, the opportunity to move into the neighborhood and make it "cool" again.
The crash is also responsible for the neighborhood's proudest addition, Brickell City Center, a $1.05 billion development that offers luxury shopping, two residential towers, a hotel and two midrise office towers. Back in 2007, before the crash, the initial two blocks (of the now five blocks that make up the city center) were going for $110 million. When the developers bought it in 2008 after the crash, those same two blocks had been reduced to $41 million. This city center has been referred to as the catalyst in the urbanization of Miami. It solidified the neighborhood as a place to live, work and play by giving its residents places to be entertained, such as a shopping mall and movie theater.
The Brickell City Center has also helped downtown Miami deepen its mark as a luxury shopping destination. The Design District, which is located a mere 10-minute drive north of Brickell, laid the groundwork with a village of luxury shops, including Louis Vuitton and Christian Louboutin. However, the city was still missing a major department store. Saks Fifth Avenue happily filled that void when it became the anchoring store for the city center. That, along with other stores such as Intermix and Armani, has caused the city center to rival the famed, and more established, Bal Harbour Shops (located nearly 30 minutes away from downtown).