Fashion bridges cultural gaps for spring '17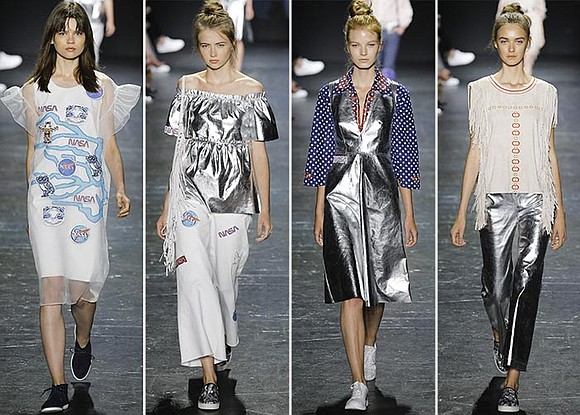 International designer Vivienne Tam is known for her culture-bridging, East-meets-West concepts in her collections. Her looks are global, often pioneering collaborations that marry fashion with technology. Her knack for blending her cultural roots with a modern design vocabulary in her looks is recognized. Often, her designs are sheer artistry.
Tam is also the author of the award winning book, "China Chic." Pieces of her collection are a part of the permanent archives of the world's most prestigious museums, including the Metropolitan Museum of Art in New York and the Victoria and Albert Museum in London. Tam also loves the space program and cowboy themes. Inspired by her recent trip to Houston, Texas, she utilizes the NASA logo in her collection. There are also soft suede jackets with fringe and chrome metallic flares, and a ruffled blouse in a blue and white motif. Pretty dresses in beautiful prints and patterns are enhanced with embroidery, sequins and appliques. Some of her looks reflect styles seen on folks at the rodeo. Tam's signature 3-D butterflies were apparent on her garments. A black Western belt cinched the waist. Good show!
Rhode Island School of Design's Apparel Design Department showed a rugged, yet fashionable collection of menswear on the New York Fashion Week runway. RISD prepares students to meet the demanding requirements of the fashion industry. The program is built on the philosophy that design and technical skills are mutually enhancing. From functional to experimental clothing, the course is structured to take students through all aspects of apparel design and construction.
RISD's technical classes proceed from basic to advanced drafting, draping and construction and incorporate the use of computers as a tool for design and product visualization. RISD has offered programs in costume, clothing and fashion since 1918, and established the Apparel Design Department in 1952. Their graduates include such top designers as Nicole Miller, Sari Gueron, Sally Lapointe, Robert Geller and Nicole Romano. Many students have found success with designers such as Michael Kors and Ralph Lauren.