A ray of 'New Hope' for Black elders
Gregg Morris | 1/5/2017, 11:37 a.m.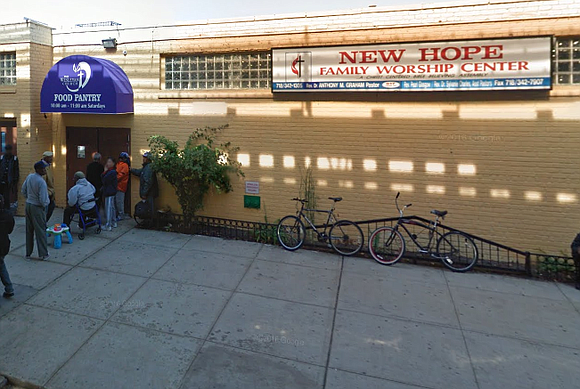 NEW YORK, N.Y.-- Brooklyn has 232 listings of pantries, soup kitchens, food shelves, food banks and other setups, more than any other borough in New York City, according to foodpantries.org which provides a directory. Pantries, this writer was told by several sources, play a vital role in helping residents of East New York and Brownsville survive.
After several attempts at trying to contact pantries in East New York, this writer connected with New Hope Family Worship Center, and paid a visit one Saturday morning at 817 Livonia Avenue. New Hope's pantry resembles a modest retail supermarket – sans checkout lanes with cashiers waiting for credit cards and cash for payment. There was a wide variety of fruits and vegetables in an area resembling the produce section of a modest retail food store.
Many who had queued up at the entrance to the food area brought carts and bags with them. Also, taking place at the same time was a large breakfast for a contingent of youth basketball players. The guest lecture was a member of the NYPD Community affairs talking candidly about the dire consequences of youth joining gangs.
The church was founded by Reverend Dr. Anthony M. Graham, who graduated from York College, has a Masters in Business Administration from St. John's University and a Doctor of Ministry from Bakke Graduate University in Greenville, Texas.
New Hope Family Worship Center is described as "one church in three locations," the Bronx, East New York and Staten Island. It has several missions, which are called ministries, but the one that particularly interested this writer was its social services programs for housing, jobs, immigration and other issues of serious concerns.
He described the New Hope's food market as "a deliberate effort we make to let the community know it is valued. They come in and they look at what is there and they take what they feel they need. We look at that as a since of empowerment. Something we've been doing for quite a while and hope to continue. And the whole idea of giving them the opportunity to choose I think is a very powerful one so that we're not just giving them something in a bag. The sole purpose in what we do is to touch men and women with the love of Jesus. To let them know that there is a God who cares. And we feel as if we are an extension of his love to the community. That's our only motivation. We are here to be a blessing, we are blessed to be a blessing."
He was asked about the needs of seniors who are members of his church, and he explained that New Hope provides help for non-parishioners as well.
"We find a need for fellowship, for relationship, a strong need for relationship. America worships the young and as people get older they are marginalized and cast aside," he said. "And, so, as we love our community, as we love our church, we see the need to keep our seniors engaged. And of course they have a wealth of experience that can benefit so many groups. I hope to marry our seniors with our youth."