Eleuthera—The other Bahamas
Megan Pinckney | 1/12/2017, 10:41 a.m.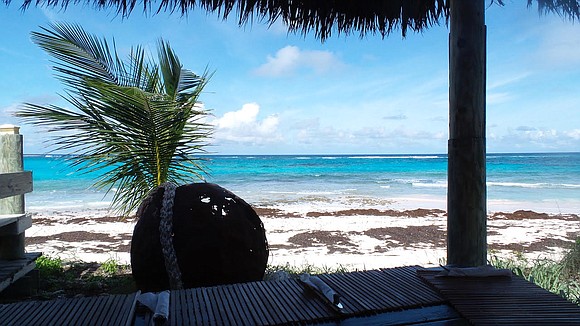 When most people think of vacationing in the Bahamas, they think of the over-commercialized—and extremely expensive—Atlantis Paradise Island Resort in Nassau, or some exclusive cruise ship beach that lacks culture and is nothing more than a place to rack up cheap souvenirs. But thanks to my best friend and her destination wedding (almost exactly two years ago to the day), I discovered an island in the Bahamas worth escaping to for a quiet weekend away from it all!
Approximately 70 miles east of Nassau and a short 30-minute flight away lies Eleuthera, a long, skinny island that boasts an endless number of virtually unspoiled natural sights. The island itself is more than 100 miles long, but is a mere one and three-fourths of a mile wide. This narrow width ensures that visitors are never far from the beaches of pink and white sand.
Although it is the third most populated island in the country, the residents are mostly fishers, farmers and shopkeepers who live in concentrated areas and do their best to live with the land, instead of destroying it. They are also extremely friendly and welcoming to guests.
While there, I stayed with the bride and her wedding party at the host hotel, Pineapple Fields Resort, in a one-bedroom unit that included a full kitchen, a living area and even an outdoor balcony. It honestly felt as if we were staying in a friend's quaint guesthouse instead of a full resort. Although there were other resort guests and even a few full-time residents, everyone effortlessly kept out of one another's way. It felt as if the only people at the resort were there for the wedding.
The pool was tranquil and quiet, making it a perfect place to relax and nap in the sun. Even better, it was footsteps away from our unit's front door, so I didn't think twice about going in—even if just for 10 minutes.
The beach, however, was not so conveniently located across the street. And although I would never head there for just 10 minutes, we did spend a lot of our time at that beach. The sight was breathtaking. It was a long beach lined by miles of palm and casuarina trees, with pink sand so pale it seemed white, and overlooking turquoise waves that went on far beyond the horizon. There were hardly any other people on the beach, so it always felt more like a discovery than a resort beach.
But what truly made that beach special was its famous beach bar, Tippy's. What makes Tippy's unlike most beach bars is its unique setting (as if someone only built a patio for a large home) and its surprisingly sophisticated Caribbean menu. They offered Bahamian conch, grouper tacos, an angus steak, bruschetta and, quite honestly, some of the best coconut shrimp I have ever had. On the weekends, the bar brings in live music and the crowd picks up. On any other night of the week, they are pretty accommodating and may even play music from your phone. Some of my most memorable moments and photos from the trip took place in Tippy's, next to Tippy's, outside of Tippy's or below Tippy's!