Farewell, Mr. President, and still we rise!
EDITORIAL | 1/12/2017, midnight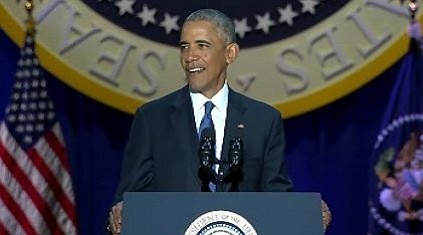 As Barack Obama, the nation's first African-American president, leaves office, he made it abundantly clear in his farewell address that he was optimistic about the future and his commitment to progress. "I won't stop; in fact, I will be right there with you, as a citizen, for all my days that remain," he said. "For now, whether you're young or young at heart, I do have one final ask of you as your president—the same thing I asked when you took a chance on me eight years ago."
This spirited resolve was reminiscent of Maya Angelou's poem "Still I Rise," particularly as his words reminded us of the recent presidential election and its winner: "You may write me down in history/With your bitter, twisted lies/You may trod me in the very dirt/But still, like dust, I'll rise."
And he rose despite the lies, the naysayers, the birthers, the insults and the intransigence of a Republican dominated Congress. It was good to hear him at last wave his own flag of accomplishments during his speech: "If I had told you eight years ago that America would reverse a Great Recession, reboot our auto industry and unleash the longest stretch of job creation in our history; … if I had told you that we would open up a new chapter with the Cuban people, shut down Iran's nuclear weapons program without firing a shot and take out the mastermind of 9/11; if I had told you that we would win marriage equality, and secure the right to health insurance for another 20 million of our fellow citizens, you might have said our sights were set a little too high. But that's what we did. That's what you did. You were the change. You answered people's hopes, and because of you, by almost every measure, America is a better, stronger place than it was when we started."
It all started in 2004, came to fruition in 2008 and resumed in 2012 when he was re-elected. It was the affirmation of his prowess that began with the Lily Ledbetter Fair Pay Act, the first bill he signed into law, and continued with the commuting of sentences of hundreds of prisoners.
Obviously, his administration was not perfect, a point he underscored. "No matter how imperfect our efforts," he said, "no matter how expedient ignoring such values may seem, that's part of defending America. For the fight against extremism and intolerance and sectarianism and chauvinism are of a piece with the fight against authoritarianism and nationalist aggression."
Assessing Obama's legacy cannot and will not be done in a few years. As with many of the previous presidents, it sometimes takes generations for a consensus to arrive on the good and bad of an administration. But if they deal with the facts and weigh the resistance, it may be merely a matter of taking into consideration what Dr. King had to say—"The ultimate measure of a man is not where he stands in moments of comfort and convenience, but where he stands at times of challenge and controversy."
No president has had to endure what Obama went through. What other president was slandered, repudiated, ridiculed and challenged by a barrage of lies and innuendos? Even so, he stayed on message and kept many of his campaign promises, all of which are now jeopardized.
But somehow he leaves behind an admirable eight years, replete with grace and dignity, and we call on Maya Angelou to bring this moment full circle: "Leaving behind nights of terror and fear, I rise/Into a daybreak that's wondrously clear, I rise/Bringing the gifts that my ancestors gave, I am the dream and the hope of the slave. I rise, I rise, I rise."