Schomburg hosts fifth annual Black Comic Book Fest
Nadine Matthews | 1/12/2017, 10:11 a.m.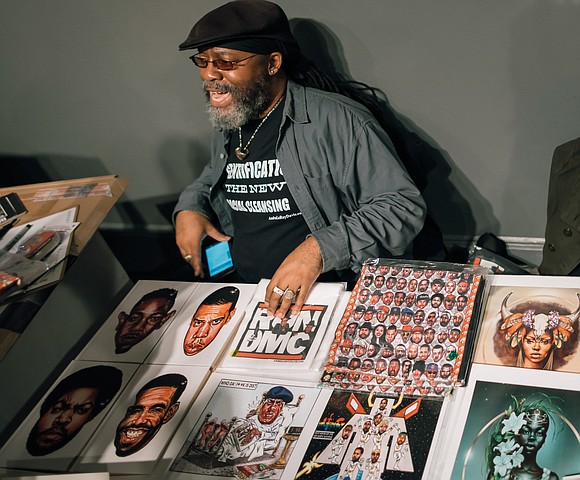 Rapidly becoming one of the most highly anticipated yearly family events for many, the Black Comic Book Festival returns to the Schomburg Jan. 13 and 14.
"Just like other festivals and community gatherings in this area, it doesn't take long before people from Philadelphia, Virginia, D.C. are literally making a family weekend out of coming to Harlem to attend the festival, go the restaurants, do shopping," said Deirdre Hollman, the Schomburg's director of Education and Exhibitions and head of its Junior Scholars program. "It's really become a Harlem event in the best way possible."
Although there have been Black comic characters and Black comic creators for decades, they haven't received very much attention from mainstream media, which has made it more difficult for Black comic creators to make a living doing what they love. Jerry Craft, author of numerous comic books as well as the long running syndicated comic strip, "Mama's Boyz," is one of the festival's co-creators. Along with Hollman and another comic book author and scholar, John Jennings, Craft set out to improve conditions for comic creators as well as consumers. At the same time, Craft and Jennings were each trying to come up with ways to make Black comics and their creators more visible.
Hollman was working with comic books for one of her educational programs at the Schomburg. She was using Congressman John Lewis' graphic novel adaptation of his autobiography as a teaching tool. Around the same time, University of Georgia professor and filmmaker, Jonathan Gayles, whose documentary "White Scripts, Black Supermen" explored issues of Black masculinity in comics, reached out to her.
"A couple of conversations later we were putting together a conference which was the best way to serve all of those audiences," Hollman recalled. "To have young people be able to interact with comic creators and authors and to have people gather and listen to a panel discussion about some of the topics and things related to Black history and culture that come out of these works and to also engage the public with individual exhibitions that look at all the diversity within Black comics."
According to Hollman, this year's festival will feature "over 40 comic creators presenting their work on both days."
"We'll be featuring short film screenings of animated stories created by comic creators of color," she said. "There'll be a cosplay show. We try to fill the day with a variety of opportunities for engagement for children, for teenagers, for comic enthusiasts who are really deep into the content as well as for scholars who are thinking about it on an analytical level, the different implications of history and culture being told through this medium."
In addition, there will be a number of panels specifically focusing on the role and particularities of female comic creators. "On Friday the 13th" Hollman explained, "We have a tribute to Jackie Ormes who was the first Black syndicated comic creator with her comic strip, 'Torchy Brown.' On Saturday the 14th, we have a panel called 'Fierce Femininity and Fandom.' That is an all-female panel comprised of two comic creators, a comic book store owner and a comic series illustrator, all talking about femininity in the world of comics."