URBAN AGENDA: Revival of tuition-free public college in New York has room for improvement
David R. Jones | 1/12/2017, 11:16 a.m.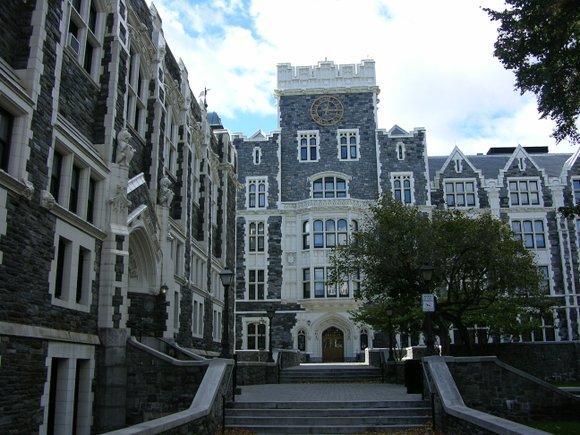 For more than 125 years after it was founded in 1847 as "the Free Academy," the City University of New York (CUNY)—the largest urban public university system in the United States—had remained tuition-free, providing a critical path to quality higher education for the children of New York's poor and working-class families who would otherwise be unable to afford it. However, CUNY was forced to end this policy in 1976 amid a city fiscal crisis.
Now CUNY may once again be tuition-free, thanks to an encouraging new proposal announced by Governor Cuomo last week. To be known as the Excelsior Scholarship, the governor's plan would offer free tuition to New Yorkers from families earning up to $125,000 a year to attend two- or four-year public colleges in the State University of New York (SUNY) and CUNY systems. The plan represents the revival of a similar—and very popular—idea championed by Bernie Sanders during his presidential bid.
There is strong support among New Yorkers for free public college tuition. This past year, as part of Community Service Society's annual Unheard Third survey, we asked New Yorkers whether they would support a plan that covered the cost of public college tuition using state and local tax dollars. Nearly two-thirds of our respondents (65 percent) supported the idea, with most in strong favor. The proposal was especially popular among the Democrats we surveyed, with three-quarters (75 percent) in favor of it.
The Excelsior Scholarship program will be phased in over three years, with income eligibility starting at $100,000 in fall 2017, rising to $110,000 in 2018 and then reaching $125,000 in 2019. The program makes up the difference between tuition and costs subsidized through state and federal grant aid. An estimated 940,000 families could benefit from the program, which is primarily aimed at middle- and higher-income families who don't qualify for the New York State Tuition Assistance Program (TAP) and federal Pell grant programs.
Including non-tuition expenses would help state's neediest students
While promising, the proposal could do more to help the lowest-income students if it also addressed non-tuition expenses that wouldn't be covered under his current proposal. The neediest students may have their tuition fully covered through Pell and TAP but still struggle with other expenses like books, food, housing, transportation and childcare.
Low-income students may have no choice but to take out student loans to pay for their non-tuition expenses. Our latest polling data found that as of 2016, 36 percent of low-income New Yorkers under the age of 30 had student loan debt. For low-income New Yorkers who take on student loans, meeting student debt obligations may also trigger other types of economic hardships, especially for those who enrolled in college but left without a degree. This past year, we asked New Yorkers about whether student debt payments kept them from affording basic necessities such as rent or food, or from getting approved for a rental application or loan. Among respondents with student loan debt, a third of those with low incomes reported experiencing this hardship in the last year, compared to less than a quarter (23 percent) of those with moderate to higher incomes. For low-income respondents who completed some college but did not earn a degree, an even higher share (34 percent) said that they experienced this hardship.