Get a jump-start with Pre-K for All
NYC SCHOOLS CHANCELLOR CARMEN FARIÑA | 1/19/2017, 3:15 p.m.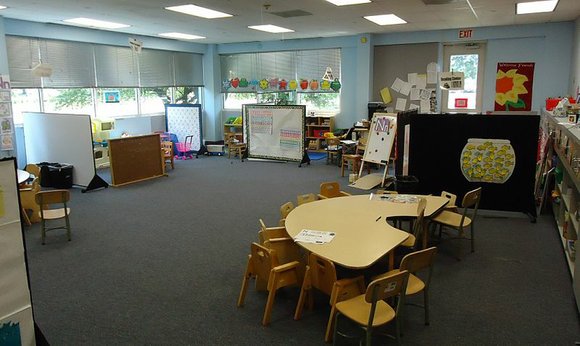 Our city's Pre-K for All program offers our youngest learners an opportunity to develop their social skills, explore science, learn routines and build their vocabulary. Without a doubt, high-quality pre-K is an invaluable extra year of learning that sets children up for success in kindergarten and beyond. This prospect brings me to today: Families can now apply for free, full-day, high-quality pre-K through Feb. 24 for the 2017-18 school year. I encourage every New Yorker with a child born in 2013 to apply today.
New York City's pre-K programs offer children from every neighborhood a foundation for a brighter future, and over the past three years we have more than tripled the number of 4-year-olds who are in classrooms learning. Thousands of parents like yourself have taken advantage of this opportunity, saving thousands of dollars in child care costs, while going to work knowing their children are in safe learning environments.
Family engagement at the pre-K level helps schools build long-lasting communities and encourages children to do better, whether it's bringing lunchtime routines to your dining room table, developing a love for reading at home or exploring the trees at the local playground. Pre-K give parents a jump-start to get involved in their child's education early on. Our pre-K programs, in every setting, welcome families into the classrooms and hold workshops to share resources and programs available to them.
In addition to the programming and engagement we offer in pre-K, we provide families options to ensure that all children gain foundational language, literacy and cognitive, social and emotional skills, including programs for children from culturally and linguistically diverse backgrounds such as Dual Language and Enhanced Language.
During a recent visit, I met Carolina Square, a new pre-K dual language teacher at PS 516, while she enthusiastically read "Un Lazo a la Luna (Moon Rope)," by Lois Ehlert. In Square's Spanish-English dual language classroom, students can quickly distinguish between English and Spanish by the color used in bulletin boards, stenciled letters and markers on the smartboard (red for Spanish, blue for English). Square is a native of Colombia and believes that being multilingual at an early age helps children maintain their native language while learning a new one and also learning about diverse cultures and traditions. Nestled in the heart of Sunset Park, Square's pre-K classroom is filled with bustling joy.
Pre-K opens endless doors for students and families in extraordinary ways, which is why we are committed to offering programs such as dual language. As a former English Language Learner myself and bilingual adult today, I know how important it is to acquire a second language, and my goal is to expose our city's students to instruction in at least a second language (or even three!). 
Pre-K for All offers programs that address the unique needs of every family. We work one-on-one with parents to find the right programs for their children.  Starting today, I encourage all New York City families to explore the different options we offer using the Pre-K Directory, which is available in 10 languages. Additionally, translated directories are available for families who need one, at all elementary schools, and at each of the city's participating Pre-K for All programs, Family Welcome Centers, libraries and other community centers.
Together we can give our youngest learners a fair and equitable start in their academic careers, securing long-term benefits for themselves and their families.