Exclusion and co-opting of Black culture at Women's March
BRITTNEY WALKER | 1/26/2017, midnight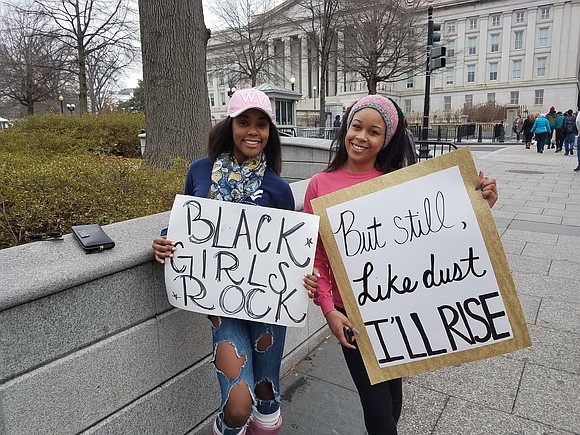 The Women's March turned out to be a bigger international stance against inequality than expected. All over the world, some are estimating that 3 million people marched Jan. 21, demanding equal rights and freedoms for all. There were some obvious sentiments about the newest president as well.
In Washington, D.C., an estimated half million people from all over the world descended upon the city.
Rebecca Shook, a retired lawyer who lives in Hawaii, originally proposed a march just after Trump was elected. According to interviews with other media outlets, she didn't expect the event to garner much support.
But since its beginning, the march, for many Black women, didn't appear inclusive. So Black woman activists like Jo Ann Hardesty of the Portland NAACP and writers like Jamilah Lemieux, who cited that 53 percent of white women voted for Trump, refused to participate. Hardesty told The Washington Post, "I didn't want to be part of the march if it was going to be a white-woman kumbaya march."
Whether or not these statements and articles affected Black attendance is uncertain, but Black women who attended, few in comparison to the number of white women present at the march in D.C., had their reasons.
Jacquelynn Mays Espinosa, a former professor of communications at Howard University and a social justice worker, attended the March on Washington. Although she was there, proudly in solidarity with the thousands of other men and women, she did not attend without understanding the historical past of white women's activist behavior.
She explained that typically white America tends to only raise a voice against injustice when it directly experiences a threat or violation of its white freedom.
It wasn't until Trump essentially threatened women the way he did during his campaign that outrage was sparked among white women.
"[Wearing the pussyhats] is their counter narrative, their outrage. I say whatever brings you to consciousness is all right with me as long as you don't stop there," she said. "I guess my point is, though, that my suffering didn't bring you to consciousness. My sisters' suffering didn't bring you to consciousness."
At the start of the gathering of the thousands, swarms of people glommed onto each other on the D.C. Metro platforms, pushing onto the frequent, yet packed train cars. Most were white women. The energy from various starting points to the Washington Mall was electric with cheers and chants.
On the streets, while there was more diversity, finding another Black face was challenging. Shoving through groups of smiling white people in pink hats carrying signs that read "Pussy Power" and "Free Melania" was a necessary task in the search for brown faces.
A group of Black women from Brooklyn emerged from the sea of pink and white. They stood out not only because of their brown skin, but also they sported all Black, creating a space of their own.
Melissa Charlana, 28, a feminist, was among them. "I came because I wanted it to be known that we give a f--k about what happens to our bodies, what happens to our society. I feel included [in the march] because we made the space for us to be included. I don't necessarily feel considered and everything about the co-opting of our symbols really bothers me," she explained.