Fast food workers push for City Council to pass pro-worker bills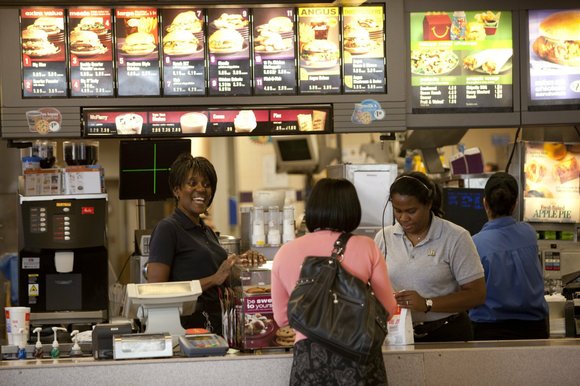 Another group of Americans that are worried about Donald Trump's presidency? Fast-food workers.
This week, fast food workers and other activists met with New York City Council members and urged them to pass a package of laws that would assist in workers' rights. They want to protect the gains they have made in the city and don't want Trump to use the federal government to take them away.
"A big problem for workers in our industry is the last-minute scheduling changes that make it impossible to plan our lives and take care of our families," said Elexus El, who works at KFC in Brooklyn, in a statement. "I get my hours cut and I'm struggling to make enough to support myself, my mom and my siblings."
There are three scheduling bills that were introduced in the City Council that would require fast-food stores to give workers two weeks' notice of their schedules and pay a "penalty" to workers if schedules changed at the last minute, to give current employees more hours before hiring new part-time employees to fill shifts and to end the practice of requiring workers who close a store one night to open it a few hours later the next morning ("clopenings").
There's also a fourth bill called the Fast-Food Worker Empowerment Act, which would require employers to honor workers' requests to deduct voluntary contributions from their paychecks to not-for-profit organizations that could fight for their interests. All four bills have more than 30 co-sponsors in the City Council.
"Without a stable work schedule, who can build a stable life?" stated New York City Council Member Brad Lander. "New Yorkers trying to pay the rent and feed their families should not be subject to the whims of shift cancellations and last minute changes to their hours. I'm proud that the New York City Council is helping fast food workers achieve a fair workweek—with two weeks' advance notice and a pathway to full-time hours—and making sure that all workers can request schedule flexibility for caregiving, schools and the realities of their lives."
Union leaders also urged the council to move fast.
"As workers face threats from the new administration in Washington, we're committed to keeping New York City a worker-friendly city, and we thank the council members who are standing with us," stated 32BJ President Hector Figueroa.
A letter sent to the City Council urging them to pass these laws included signatures from organizations like Make the Road NY, the NAACP New York State Conference, the Community Service Society, Planned Parenthood of New York City, the Fight for $15 and the New York Taxi Workers Alliance.
"Many fast-food workers in our city are mothers and fathers," read the letter. "Many are from communities of color. Many are immigrants. They are as diverse as our city but they share common dreams: to have dignity on the job, to provide a bright future for their families and to contribute to their neighborhoods.
"Some of the biggest challenges workers say they face are last-minute scheduling changes that make it extremely difficult to plan their lives, arrange child care or continue their education," continued the letter. "These problems don't just impact workers and their families but they also impact their communities. Many workers still don't know their rights on the job or how they can fight for issues that are important to them."