Organizing in the time of Trump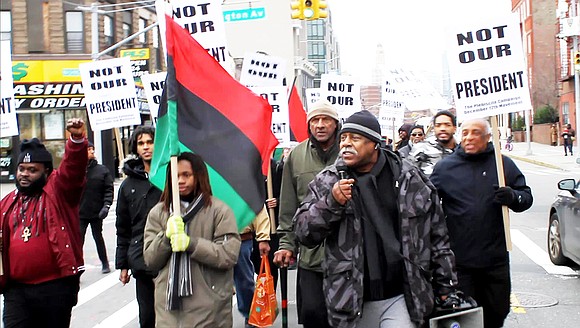 There currently exists, it would appear, an air of defiance and need to triumph as unprecedented is the massive outrage that motivated more than a million people to take to the streets during and one day after the inauguration of controversial Twitter-friendly Donald Trump.
Friday, Jan. 20, 2017, thousands of people took to the streets across the nation protesting the Trump inauguration going on in Washington, D.C. In Brooklyn, fired-up residents held placards high declaring "NOT OUR PRESIDENT," as they rallied through the community from the downtown area through Fort Greene and Clinton Hill to Bed-Stuy. A reported 400,000 people jammed Midtown Manhattan Saturday as 1 million people demonstrated in Washington.
"The protests and marches are a shift toward a more progressive agenda," said Marq Claxton, director of the Black Law Enforcement Alliance. "The clear and present danger that is the Trump presidency appears to have inspired diverse groups to support each other's common interests. The Trump selection has created fertile ground for a wide ranging socio-political revolution. The protestors found common interests and causes."
As the postelection/inauguration fallout settles, the news media, aka, the Fourth Estate, the voting and nonvoting public, workers, unemployed, students, the great-of-health and the medically challenged are figuring out how they are going to navigate this new Trump administration era.
With his xenophobic "America First" rallying cry and vision, alongside his threatened cuts to affordable health care and Social Security and his changes to longstanding international relations, arts and civil and societal rights, people are nervous about what may happen to women's reproductive rights. This concern arises as Trump is poised to pick his new Supreme Court nominee, install Exxon's former CEO Rex Tillerson as Secretary of State and Mike Pompeo as CIA director, and make the equally controversial Betsy DeVos his Secretary of Education.
"In less than a week Trump signed orders that declared war on everyone already in the trenches for justice and we have a little over 1,400 days to either fight or fail," documentary filmmaker Dami Akinnusi-Rock told the Amsterdam News. "Ultimately people will die unnecessarily under his presidency and we should all march, not just for the anti-abortion global gag rule, but for those in Flint and the countless Black folk dying at the hands of the police. After marching, we must also take action against the policies he's pushing."
Declaring success as "more than 500,00 people march peacefully through the streets of New York City," Teresa Ginsberg and Katherine Siemionko stated, "The Women's March on NYC is the beginning of a global movement. On Saturday, January 21, we achieved our goal of uniting women and their allies in an historic show of solidarity. Our immediate next step is to hold Trump to his promise to enact paid maternity leave and equal pay for women. All women, both those who voted for Trump and those who voted against Trump, have a stake in the culmination of these two laws. Once we have reached success with these efforts, we will advocate for passing legislation and funding for health care and social services like rape kits and battered women shelters, hold the United States Government accountable to the Paris Accord, remove the statute of limitations on rape, and tighten the language in Titles 7 and 9 of the Civil Rights Act of 1964 to maximize its effectiveness. We have a long road ahead of us. [The] March was both a preview of our strength and a statement of our commitment to achieving equality."