Talking SCHOP! Jamaica Funk
KYSHA HARRIS | Food Editor, @SCHOPgirl | 1/26/2017, midnight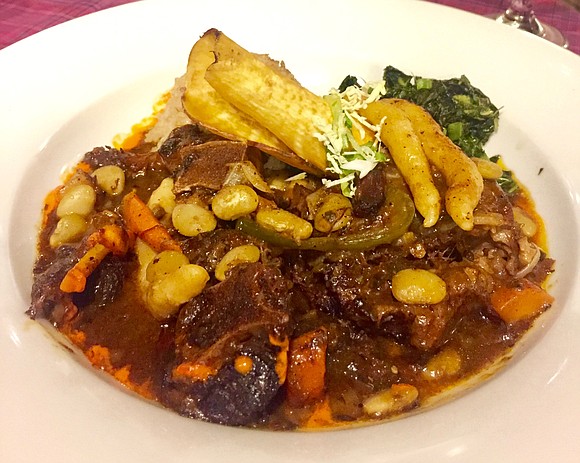 Listen … we are getting through these historical times together as best we can. Looking at the nightly news is like a horror movie you can only watch through the ever so slightly spread fingers of your hands as you cover your face. A libation and tucking away your TV remote somewhere you can't find it will only take you so far. This is why a quick romp to Jamaica with friends was in order.
Last year my good friend Katrina invited me to join her and a crew of other women to spend five days sitting by the beach in Jamaica in January. With a New Year's resolution to make more travel plans in 2017, I was in. The departure couldn't come fast enough but it was right on time!
An early morning flight meant we were unpacked and on the beach before noon. DRINKS! It had been more than 20 years since I went to an all-inclusive resort, where you soon realize your limits for food and drink. On the morning of your second day, you swear you are not going to drink that much again, if at all, but one refreshing piña colada with an extra shot of Appleton rum seems to be the gateway for excess and debauchery.
I cannot wax poetic about the food at all-inclusive clubs as they try to accommodate a universal palate that doesn't exist or worse, an American palate filled with carbohydrates, red meat and fried foods. We tried Japanese hibachi with the singing Jamaican man and the French restaurant one night where we were pleasantly surprised, but it is their doses of the Jamaican experience that gave me what I needed.
The Jamaican food highlights began with saltfish and ackee for Sunday breakfast with stewed cabbage, fried dumpling and fresh papaya with lime. I should have gone back for seconds because it was the only day of the week they serve it. I needed that in my life every morning, for reals.
Then there is the jerk cart that came out during the day and from midnight to 3 a.m. We treated him like the Good Humor man, shouting, "I see smoke! It's the jerk man!" And, baby, when I tell you we could have survived beachside on shots of rum with a back of ginger beer and lime, jerk chicken and beef patties, I ain't lyin'!
On our last night I had to go to the one Jamaican restaurant for oxtails as I was told they were the truth. They were, and I would have stayed another night just for them, served with dumplings and rice and peas.
'Nuff respect Jamaica! You certainly got into me…
Happy eating and thanks for reading!
Kysha Harris is a food writer and editor, culinary producer, consultant and owner of SCHOP!, a personalized food service in NYC for more than 15 years. Follow her on Twitter and Instagram, @SCHOPgirl, on Facebook, /SCHOPnyc, and her blog, www.talkingSCHOP.wordpress.com. Questions? Comments? Requests? Feedback? Invitations! Email AmNewsFOOD at AmNewsFOOD@SCHOPnyc.com. Follow us on Instagram, Twitter and Facebook @NYAmNewsFOOD and tag us with #SoAmNewsFOOD with your food finds!