Rev. Barber tells Black press: 'Bowing down is not an option'
Freddie Allen (Managing Editor, NNPA Newswire) | 1/30/2017, 1:37 p.m.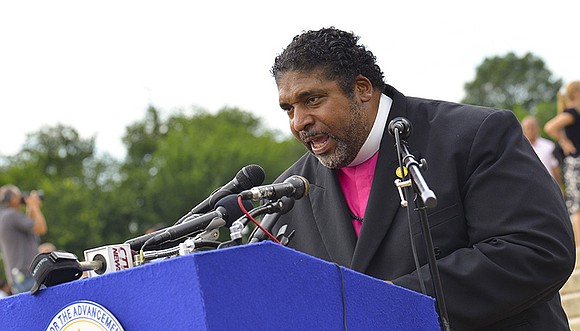 Reverend William Barber, the president of the North Carolina state chapter of the NAACP and leader of the Moral Mondays movement, delivered a rousing keynote address to open the 2017 Mid-Winter Conference of the National Newspaper Publishers Association (NNPA).
The theme of the conference was "Strengthening Black-owned Newspapers through Training, Innovation and Technology." The NNPA partnered with General Motors, Chevrolet, Ford Motor Company, Reynolds American Inc. (RAI), and the Bill and Melinda Gates Foundation to host the conference; Volkswagen, Ascension, Coca-Cola, and the American Association for Cancer Research supported the event as sponsors.
During his speech titled, "Where Do We Go from Here: Chaos or Community?" Barber tackled voter suppression in the aftermath of Shelby v. Holder, White evangelicalism and the current political environment in the age of "alternative facts."
Noting that President Woodrow Wilson played the White supremacist propaganda film "Birth of a Nation" in the Oval office in 1911, Barber said that Trump's ascension and election is not an anomaly in American history.
"This is not the first time that White supremacy has occupied The White House. This is not the first time that America has elected a racist egomaniac," said Barber, reminding the audience that President Wilson, a former college president, played "Birth" to signal that Reconstruction was over. "Education doesn't necessarily get racism out of you."
To a chorus of "Amens," Barber said that the one thing that we have to first decide to do in this moment is that bowing down is not an option.
Recognizing that he was addressing a room full of journalists and publishers, Barber pitched ideas for a number of articles and commentaries.
"Somebody has to unpack 'so-called' White evangelicalism that is illogical malpractice and heresy," said Barber. "We've got to have some papers that write and do some investigative work to connect the money to White evangelicalism to the policies of extremism and racism, because some of our own folk are sending money to some of these TV White evangelicals."
Barber said that the loss of the full protections of the Voting Rights Act and voter suppression were two of the most underreported stories during the last election cycle.
"Long before any Russian hack, the American electoral process was hacked by systemic racism and fear," said Barber. "The Southern Strategy is alive and well."
Barber acknowledged that civil rights leaders and Democrats could have voiced louder criticism about the lack of work done in the U.S. Congress to restore the Voting Rights Act.
"Democrats talked more about David Dukes than they did about voter suppression and the Voting Rights Act being dismantled," said Barber.
Barber said that they were 868 fewer voting places across the nation; those closures disproportionately affected Black voters.
"Voter suppression has been proven, voter fraud has been disproven. The lie about voter fraud is a distraction from the truth about voter suppression, because voter suppression is about thievery. You scratch a liar, you'll find a thief," said Barber. "Trump won because of the voter suppression that went on in the Black community."